2016 Mobile Star Awards Winner:
Mobile Call Screening & Customer Service — MightyCall
Profile:

MightyCall
1414 Fourth Avenue
Seattle, WA 98101
(+1) 888-256-8312
support [at] mightycall.com
Mightycall.com

Contacts:
Yury Kolerov, CMO — yk [at] mightycall.com

Structure:  Private Company
OS Supported:  All Web Browsers, Android, iOS
How MightyCall Makes Happier Customers & Partners:
In today's world of unlimited choice and high expectations, the single factor that drives a business' success or failure is how they service their customers. MightyCall simplifies the world of customer experience so that businesses can focus on keeping their customers happy.
Using the power of mobile Apps and the Cloud, and the ability to involve every team member to improving customer experience, MightyCall has made the difficult easy by creating a unified communications manager and business voicemail platform to never let another customer call, mail, post or tweet fall between the cracks.
Much more than a call manager & business voicemail app
The main features of MightyCall are: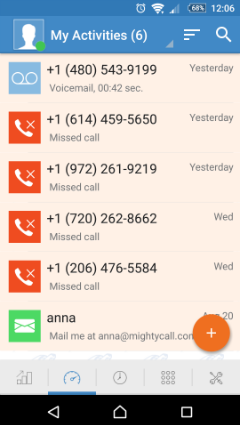 Local & toll-free numbers
Choose new phone numbers that represent the locations where you do business. Elevate your image with a toll-free number or keep your existing number.
Individual extensions
Create extensions for departments or employees, complete with web-based business voicemail and automated call forwarding to existing land lines or mobile phones.
24-hr auto-attendant
Answer calls 24 hours a day with a pre-recorded greetings that can include office hours, availability and holiday scheduling. Present callers with a menu of dialing options.
Smart call routing
Establish rules that determine the best way to handle each incoming call, relative to office hours, holiday schedules and recipient availability.
Group call management
Choose to ring multiple phones at the same time or cycle through a list of phone numbers sequentially. This is a great way to alert an entire team of urgent sales or support call all at the same time.
Call screening alerts
Receive incoming call alerts on your business phone prior to accepting the call. Choose to accept, transfer or send the caller directly to voicemail.
No new equipment needed
MightyCall Receptionist is a cloud based service that can be used with existing phones including mobile, land-line and VoiP lines. There is no new hardware required and no software to install.
Web-based voicemail & call logs
Business voicemail for each extension complete with email delivery of messages and online call log availability.
MightyCall ClickConnect pre-integrated
Add click-to-call capabilities to your website and turn more visitors into customers. An easy to install widget and web dialer is pre-programmed to direct callers to your MightyCall Receptionist business phone number.
Call Menus, extension and name dialing
Help callers quickly get to their destination. Provide menu options for departments, enable direct dialing of extensions or a dial-by-name directory.
(End MightyCall business voicemail app summary)