We've partnered with Appcelerator to round up the top news stories, think pieces and other content about the fast-paced, quickly changing world of mobile technology. We tell you which companies are employing clever mobile strategies, illuminate new ways of thinking about mobile and offer a peek at meaningful trends. We hope you use this news for inspiration and motivation on ways to leverage mobile for you and your company. Here, we look at major updates to Google Assistant and Google VR, Android, Amazon Alexa and Echo, Uber and more. Starting June 5, we will feature a weekly "Week in Mobile" news roundup.
Apple May Phase Out iPad Mini, Amazon Upgrades Fire Tablets
As anticipation grows around the potential announcement of a new iPad during WWDC in June, reports suggest Apple may do away with the iPad mini. A source close to Apple says the iPad mini will no longer receive updates and will eventually be phased out altogether. The iPad mini has seen declining sales recently, and some analysts have predicted the 7.9-inch iPad mini would eventually be discontinued following the release of the larger 5.5-inch iPhone Plus, which reduced the need for a smaller-sized tablet.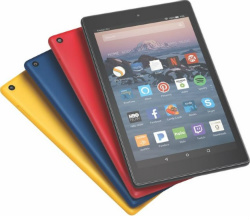 While Apple looks to be moving away from smaller, lighter versions of their trademark tablet, Amazon is raising the stakes by releasing four new versions of its compact Fire tablet (at left). The new releases include upgrades to the Fire 7 and Fire HD 8 tablets, which offer 7-inch and 8-inch displays respectively. Amazon is also releasing kid-friendly versions of each of these products that come complete with a special protective case and parental monitoring options.
Smartphone Sales Increase, But Not for Apple
Worldwide smartphone sales increased by nine percent in the first quarter of this year, but it wasn't Apple or Samsung fueling the new growth. While the two companies still reign as the industry's top mobile providers, a new report indicates their grasp on the global market share is under attack by Chinese smartphone makers. According to the report, Chinese companies Huawei, Oppo and Vivo each saw double-digit growth and accounted for nearly a quarter of the 380 million smartphones sold around the world. Those figures were driven primarily by success at home.
Apple's smartphone sales were flat over the first quarter, but Samsung saw its number of shipments drop by around 2.5 million units. The success of the Chinese brands also means that Google's Android operating system continues to widen its lead over Apple iOS in the global markets.
New Apple Tip Policy Causes Upset in Chinese Market
Apple has angered Chinese app makers following a new policy that will see tips and donations treated as in-app purchases. Apple said that features that allow users to send money to others were in violation of App Store rules, and that they need to either disable those functions or give the iPhone maker a 30 percent cut on all monetary transfers – just as they do with games, music and videos. Developers that do not comply will see their products removed from the App Store.
In China, users often send money to content creators as way of praising and supporting their work, and popular messaging apps such as WeChat provide these tip or donation features to strengthen their ecosystem. The Chinese developers argue that they provide the tipping services for free, so Apple shouldn't be attempting to take a cut.
App Store and Google Play Policy Updates
Apple is rethinking a policy introduced last month that cut commissions for its App Store affiliates from 7 percent to just 2.5 percent. The company now says that the 2.5 percent rate will only apply to in-app iOS purchases, while rates for other purchases will remain the same. Apple did not immediately comment on why it decided to rethink the policy, which took effect on May 1.
Meanwhile, Android has revealed plans to do away with its "Top Developer" program, announcing that a new approach is on the horizon. The program, which recognized reputable developers with a blue logo on their app listings, is set to be replaced by a system that will give clout to individual apps and games, rather than the developers or organization. Google says it will be closing the Top Developer program and removing the blue badges within the next 30 days, but did not specify when the new system would roll out.
Google I/O: Google Updates Photos, Google Assistant, Much More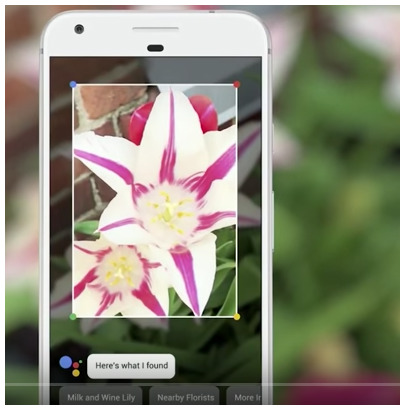 Google offered an exclusive glimpse into the future of Android and its other platforms during the company's annual I/O conference last Wednesday. Here are some of the highlights:
Google plans to add new layers of Artificial Intelligence to all of its products, and that starts with the unveiling of a new photo technology called Google Lens. The new product will allow users to point their smartphone cameras at an object to identify or interact with it (see photo at right).
The company announced that its virtual assistant will soon become more conversational, and even make the jump to iPhone. Google Assistant has expanded from the Pixel phone to more than 100 million Android devices. While iOS users won't be able to replace Siri with Google Assistant, they can now utilize the assistant on iPhone through an app.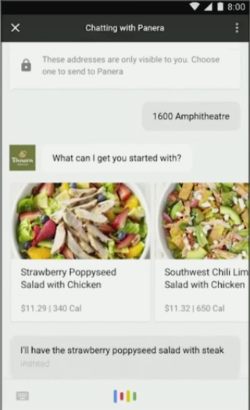 Google also revealed that developers are now able to build apps and actions for the Android and iOS versions of Google Assistant. Previously, developers were only able to do this on Home devices. For example, restaurants can use Google Assistant to help users place orders from their phone. (See screenshot at left.)
While Google still hasn't picked an official name for its new operating system, the company has now made an Android O beta available to users. That means consumers can finally get their hands-on new updates such as notification dots, picture-in-picture and autofill with Google Chrome.
Google also released its second developer preview for Android O. According to a company blog post, Android O is introducing two new features within the Google Play Console to making managing app subscriptions easier. Subscription dashboard allows developers to view information like subscribers and cancellations, and provides tools for monitoring revenue data and top performing products. A new feature available in June called Account Hold will do a better job of withholding premium content if the user's payment is declined.
Finally, Google announced some impressive growth numbers, including that there are now more than two billion Android devices in use around the globe. Even as Android continues to be the most popular mobile OS in the world, Google unveiled plans for a stripped down version called Android Go, targeting developing countries with limited connectivity.
Google Makes Major Virtual Reality Plays
Google has also made major moves strengthen its hand in Virtual Reality. The company announced in mid-May that it has acquired award-winning VR studio Owlchemy Labs. The Austin, Texas based company has produced popular VR games such as Job Simulator, Caaaaardboard! and Rick and Morty: Virtual Rick-ality.
Google also unveiled plans for new VR headsets that won't require a phone or PC to operate. The new standalone VR headsets are being produced in partnership with Lenovo and HTC, and will run on Google's Daydream platform. They are said to feature improved graphics and movement tracking, and are scheduled to ship later this year.
Separately, Google revealed that its working with new partners to create "Street View ready" certifications for a number of 360 degree cameras. The long-awaited certifications are likely to spike interest in 360 degree cameras, which could be used to bolster VR projects.
Smart Home Device Competition Heats Up
It was an active month for smart home devices with the introduction of several new products. Amazon unveiled a new addition to its Echo family that will allow users to make video calls, watch YouTube and much more. The device, which is called Echo Show (at left, available June 28), features a 7-inch touchscreen and a 5-megapixel camera that incorporates the Alexa voice assistant.
Alongside the new screen device, the company revealed a new feature that enables the entire Echo family to make phone calls using Alexa. Users with the Echo, Echo Dot, Echo Show or Alexa app will now be able to place WiFi calls to any other Alexa-enabled device.
But Amazon has some eager competitors. Harman Kardon revealed a new device powered by Cortana. The Invoke speaker is set to release in fall of this year, and comes equipped with 360 degree audio, the ability to make Skype calls and ask Cortana questions.
Amazon Adding Notifications to Alexa
Alexa will soon be able to alert users via notifications. According to a recent announcement, developers will be able to build notifications for Amazon's family of Echo devices as well as third-party platforms that utilize Alexa in the coming months.
The updates will come in a couple of different ways, including an audible chime and glowing green light to alert the user that new information is available. Users will then be able to ask Alexa about the notifications, as well as enable a "Do Not Disturb" mode if they'd like to cease visual or audio cues for alerts for a set time. The tech giant said AccuWeather, The Washington Post, Just Eat and Life360 will be among the first brands to take advantage of the new feature.
Warby Parker Rolls Out Mobile Eye Exams
Last week, Warby Parker introduced a new app called Prescription Check, which allows users to skip a trip to the eye doctor and renew their prescription from home instead. If your prescription has expired, all you need is an iPhone and a computer to see if your vision has changed. The Prescription Check app prompts users to visit WarbyParker.com/Test, and pairs with the user's iPhone. From there, the app will provide instructions and the test will run on your computer. The resulting test is then sent to an eye-doctor, who either renews the user's prescription or sends a referral if vision has changed. The process takes up-to 24 hours.
Uber Adds Nearby Public Transportation Details for Riders
Uber will now show passengers the departure times for public transportation options near their drop-off point. The company announced a new partnership with a transport information service called Transit to provide real-time data for local buses and trains within the Uber app.
The integration, which is only available to Android users for now, was designed to make Uber a better option for commuters. Users can now view upcoming departure times, potential delays and directions for getting to their bus or train through the Uber feed. The integration is now available in 50 of the nation's largest cities.
Nintendo is Bringing Zelda to Mobile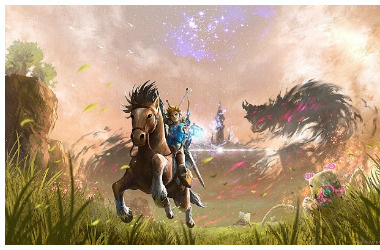 Nintendo is reportedly bringing another popular franchise, The Legend of Zelda, to smartphones later this year. The move marks the company's latest foray into mobile gaming after announcing several years ago that it would release five new mobile titles by 2017. Following the release of Super Mario Run, Fire Emblem Heroes and Miitomo, Nintendo is close to making that promise a reality.
Although widely praised by fans, Nintendo's mobile experiment only netted the company $176.4 million out of $4.3 billion in total sales the last fiscal year. Despite the modest payout, Nintendo is pushing forward with mobile in the hope that it will capture the attention of casual gamers.
MLB Unveils New At Bat VR App
The MLB is introducing a new way to watch your favorite baseball teams this season. The At Bat VR app for Android phones and Google's Daydream platform will be available for download on June 1, which is exciting news for those seeking a more immersive and informative viewing experience. While the game itself won't be filmed in VR, the app gives the viewer a 360-degree view of each pitch, tracking trajectory. Users can also see the speed of each pitch and background on the player. Meanwhile, TV coverage is projected alongside these stats. The At Bat VR app is available to anyone with an MLB streaming package.
This mobile news wrapup is by Jon Bailey, Senior Director of Platform On-Demand at Appcelerator, a leading mobile development platform company owned by Axway. Starting June 5, we will post Appcelerator's weekly mobile news wrapup. You can find more Appcelerator posts here.
### End mobile news roundup with Google I/O, Google Assistant, Android O, iOS, Apple App Store, Amazon Alexa, Echo, Nintendo PS, and more.