2015 & 2016 Mobile Star Awards Winner:
Multiplatform Mobile Application Development — Kony Visualizer 7.0
Profile:

Kony
9225 Bee Cave Rd., #300
Austin, TX 78733
Tel: (+1) 888-323-9630
kony [at] blancandotus.com
Kony.com
Structure:  Private Company, established in 2007
No. of Employees:  Approx. 1,400
OS Supported:  Android, Apple iOS, BlackBerry, Windows Phone
How Kony Takes App Design to New Levels:
Kony Visualizer 7.0 is a visual app design and development solution that enables collaboration between designers and developers by democratizing the process of mobile app development for designers, developers and even those with no background in programming or coding. Kony Visualizer 7.0 includes features to simplify and accelerate the mobile app development process, enabling users to build powerful connected, omni-channel apps for phone, tablet, web, or connected devices. (See screenshots below.)
The new release, which enables cross-platform mobile app design and development, also supports voice input for Apple Watch apps or intelligent control of smart homes using new Internet of Things (IoT) capabilities.
Now available as a Starter Edition, Kony Visualizer 7.0 offers a world-class native app design and prototyping environment for free, including Adobe Photoshop integration and development capabilities for Apple Watch. The Enterprise Edition offers the complete design environment found in Starter Edition, as well as the full Kony MobileFabric platform, additional security guards, third-party native libraries, performance monitoring and more.
Additional mobile app design advantages:
1)  Build application binaries for app store submission and test with emulators
2)  Leverage point-and-click integration to your enterprise systems via Kony MobileFabric:
— Discover all available services and business objects within enterprise systems (SAP, Oracle, IBM, etc.)
— Connect backend integration services directly into your app with new visual mapping tools
— Test connections immediately for data accuracy
— Define custom web service fields specific to your app
— Leverage simplified APIs with standardized widget properties, exceptions and propagations
3)  Easily incorporate custom code and open, third party libraries:
— Use an import wizard for iOS, Android, Blackberry and Windows code
— Incorporate device peripherals such as near field communications (NFC), barcodes, signature capture, and Bluetooth
— Leverage a single JavaScript cloud API to access custom code
4)  Rest easy with added security:
— Security PCI, HIPAA and FIPS140-2 compliant multi-edge solution
— Cryptography support for HMAC based algorithms
— TripleDES and PBKDF2
— White box cryptography and support for 2 way SSL
— Binary and tamper protection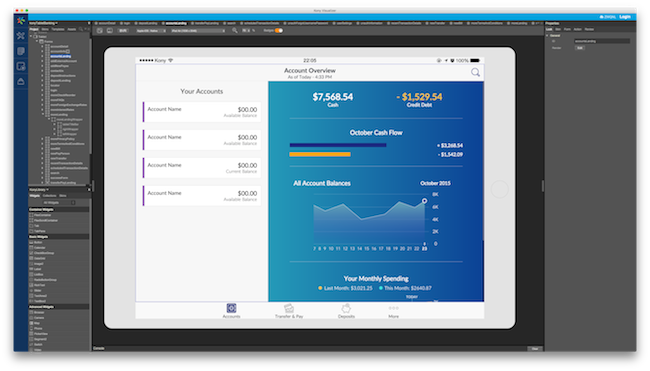 Recent Kony News:
Kony Received the Highest Scores for External Informational Apps and External Transactional Apps Use Cases in New Gartner Report
Kony Promotes Digital Innovation with the Launch of its New App Playground Event Series
Kony Launches AppVantage™ – a New Approach to Helping Businesses Meet Growing Demand for Apps
Kony Launches New Kony Visualizer Integrated with Amazon Web Services to Simplify and Accelerate Mobile App Development
Kony Enhances its Mobility Platform with "Nitro" – New Patented Omni-channel Technology