2014 Mobile Star Awards Entrant:
>  Enterprise Software: Mobile Application Development — Kony Visualizer
2012 Mobile Star Awards Winner:
>  Enterprise Software: Application Development — KonyOne platform
Company Summary:
Kony
950 Tower Lane, Suite 1200
Foster City, CA 94404
Phone: (+1) 650-645-2200
info [at] kony.com
www.kony.com
Company Structure:  Private Company, established in 2007
Approx. Number of Employees:  1,400
Operating Systems Supported:  All Platforms
Kony Mobile App Design Solutions:
Quickly define, prototype, design, and share stunning native and Web app experiences with cloud-based collaboration for mobile app design. Kony Visualizer (screenshot under video below) is an app design and prototyping solution that lets you create native and web app experiences with a What You See Is What You Get design canvas. Publish and share your app design with key stakeholders in real-time through the cloud, communicate and iterate throughout the design process with next-gen collaboration tools, and hand off your apps directly to developers with no re-work. With Kony Visualizer, you can design apps your users will love more quickly, efficiently, and effectively.
Kony Visualizer is a part of the Kony Mobility Platform, an integrated product suite that covers the entire software development lifecycle (SDLC), including define, design, build, integrate, deploy and manage. See a demo of the product below, or at https://www.youtube.com/watch?v=blmF4bLNl4c.
.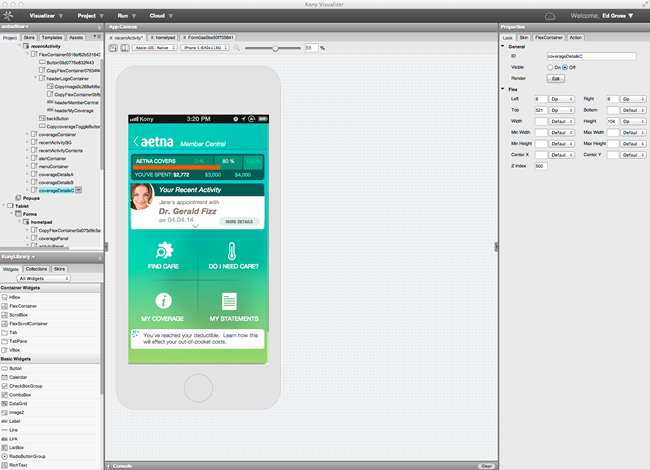 .