Kika's popular Emoji Keyboard app has just gotten more fun. The Emoji Keyboard app is adding animated GIF images from GIPHY, the world's largest GIF search engine. This means that Kika users will get a huge, searchable library of animated images at their fingertips, for sharing with friends by direct message or in any social apps.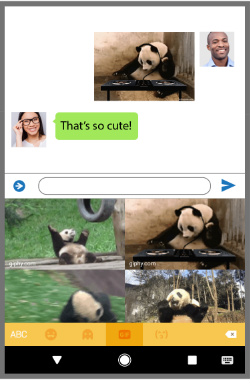 The Kika Emoji Keyboard app was awarded Google's Best of 2016 and Top Developer in 2015, and has been ranked a top productivity app in more than 77 countries with 300 million downloads. The app is currently nominated in the 2017 Mobile Star Awards.
GIPHY will be the main provider of GIFs for Kika apps, says Kika Tech Co-Founder and CEO Bill Hu. "Kika users are always looking for the most interactive and freshest content to express themselves," Hu says. "This partnership with GIPHY will only make the Kika ecosystem even more engaging and entertaining."

Kika has over the past year also launched themed keyboards and sticker packs for such films as LEGO Batman, Miss Peregrine's Home for Peculiar Children, Assassin's Creed Movie, SING, and Wonder Woman.
Kika reports huge growth, expansion plans
Since establishing its new headquarters in Silicon Valley last year, Kika has experienced major momentum. To mark its one-year anniversary at those headquarters, the company has announced exponential growth and new strategic partnerships with leading mobile manufacturers, gaming companies and movie studios. Kika partnerships now include 21st Century Fox, Warner Bros., Huawei, and ZTE, among others.
Riding on the momentum of its first year, Hu says that Kika will focus on hiring more software engineers, marketers and designers and continue to grow its partnership base.
Other key highlights during the past year include: 
Raised $33M Series B in July 2016, making the total funding to $63M.

Secured Google's Best of 2016 in the Google Play Store.

Ranked a top productivity app in 77+ countries, supporting 150 languages, boasting 300 million downloads, 26 million daily active users, and 50 million monthly active users.
Besides its Silicon Valley headquarters in San Jose, Kika has seven other offices in Beijing, London, Shenzhen, Shanghai, Taipei, Bangalore, and Moscow. Globally, the company has more than 200 employees.
More about Kika's Emoji Keyboard app
You can read more about Kika, its Emoji Keyboard app, and meet its founders Bill Hu and Ric Zhou on the company's directory page right here on MobileVillage.
### End Kika Emoji Keyboard app GIPHY news