.
2014 Mobile Star Awards Nominee:
> Mobile Application Testing – Keynote DeviceAnywhere
2012 Mobile Star Awards Winner:
> Enterprise Application Testing – Keynote DeviceAnywhere
Company Summary:
Keynote DeviceAnywhere
777 Mariners Island Blvd, Suite 250
San Mateo, CA 94404
(+1) 650-403-2450
kda [at] sonuspr.com
www.keynotedeviceanywhere.com
Company Contacts:
> Martin Smith, CEO, Sonus PR for Keynote, martin.smith@sonuspr.com
Company Structure: Public Company (KEYN), established in 1995
Number of Employees:  approximately 450
Markets:  Consumers, Device OEMs, Education, Entertainment Industry, Field Service, Finance, Healthcare, Hospitality, Real Estate, Retail Point-of-Sale & CRM, Social Groups or Networks, Supply Chain, Telecom, Transportation
Operating Systems Supported:  All Web Browsers

Featured Mobile App Testing Platform: DeviceAnywhere
Keynote's DeviceAnywhere Mobile Testing Platform
As the mobile workforce continues to grow, managing the apps on their devices is becoming a vital aspect of enterprise mobility initiatives to ensure that employees have access to corporate apps that are bug-free and unrestricted by performance issues. Ensuring a consistent user experience across a multitude of mobile devices and OSs is important since one flaw in the app – whether it's a crash or user experience issue – can drive users to third-party apps, creating a mobile management headache for CIOs and IT teams. (More below)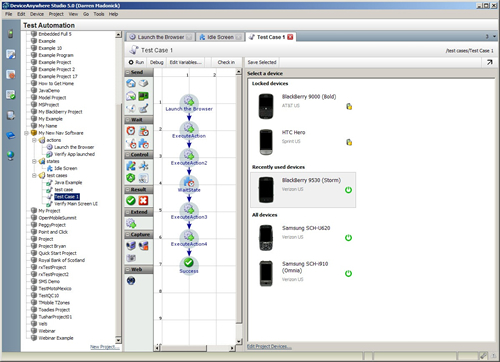 Keynote's DeviceAnywhere Mobile Testing Platform with HTML5 Web Testing is a cloud-based, enterprise-class SaaS solution that automates the testing of all mobile apps and websites to ensure quality, high-performing mobile assets. With the DeviceAnywhere Platform, QA teams can quickly create and automate test scripts to capture, verify and replay real user interactions on live mobile devices. The solution combines the convenience and efficiency of test automation with the accuracy of live mobile interactions to generate reliable, reportable and actionable results.
The DeviceAnywhere Platform allows enterprises to automate testing of native, web-based and hybrid apps from a single interface. Some of the key capabilities include: support for all smart devices, including smartphones and tablets; a drag and drop interface with a Java API; and, integration with existing ALM tools such as HP Functional Testing, HP Quality Center and IBM's Rational Quality Manager.
As web-based app development is becoming a platform of choice for developers because of its device- and OS-agnostic aspects and scalability, Keynote's DeviceAnywhere HTML5 Web Testing capability is a critical tool in a developers' mobility arsenal. With HTML5 Web Testing, QA teams can test hybrid and web-based HTML5 apps at the core, helping to accelerate time-to-market while saving substantial time and costs. HTML5 Web Testing enables app developers and QA professionals to recognize and test web elements, from drop-down menus and live links to user-interface elements which are not recognized by traditional testing platforms.
Gone are the times when testers are required to write different test scripts for different devices and OSs. With Keynote's DeviceAnywhere Platform, QA pros can write one test script and run it across as many devices and OSs as they choose, increasing the reliability and robustness of the test scripts. Additionally, test scripts will run on real devices connected to live networks – not emulators or simulators – for the optimal, most realistic results, down to the smallest pixels.