China smartphone giant Huawei has again leaped past Oppo as the top smartphone company in China, while Apple saw its fifth straight quarter of falling sales in the world's hottest smartphone market. Though Oppo remains popular in China, Huawei reclaimed its previous lead by riding high on its Honor smartphone series.
Overall, China smartphone sales slowed to just one percent year-on-year growth in the first quarter (Q1) of 2017, with only 104.1 million smartphones shipped, according to International Data Corp. (IDC). This is in part due to high inventory from the previous quarter, and only a few major smartphone launches: most notably Huawei's new P10, P10 Plus, and Honor V9.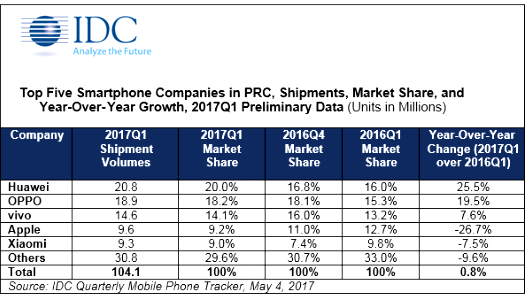 But IDC predicts bigger sales in the current second quarter, thanks to a slew of new phones like Vivo's Y53, Xiaomi's Mi 6, Meizu's E2, and Gionee's M6S Plus. By contrast, Apple will likely continue its double-digit year-on-year declines—now five quarters in a row—until at least the end of 2017.
"We believe that Chinese consumers are holding out for the launch of Apple's 10-year anniversary iPhone at the end of the year, and this will help Apple to see a rebound in the China smartphone market," says Tay Xiaohan, Senior Market Analyst with IDC Asia/Pacific's Client Devices team.
China smartphone trends: More stores & consolidation
These are some key highlights in the China smartphone market in 2017 Q1, and some points on what we can expect to see for the coming year: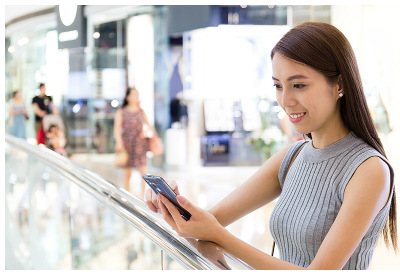 China smartphone companies will focus on offline retail. Huawei and Oppo plan to open more of their stores in major cities and even Xiaomi, which used to focus on its online channel, plans to open 1,000 "Mi Home" stores across China in the next three years.
China's top five smartphone makers hold 70% of the market. "We expect their share to continue to rise and see more consolidation [among] smaller companies in the coming year," says IDC's Tay. "We do not expect to see any new smartphone companies entering the market that will be able to make a significant difference in China."
China smartphone buyers want higher-end phones. Top Chinese smartphone companies Huawei, Oppo and vivo are all seeing an increase in phone sales as more and more smartphone users want to upgrade, says IDC. And consumers are willing to pay more for higher-end Android phones like Huawei's Honor 8, Oppo's R9s and vivo's X9—all of which were the quarter's best sellers. Sales were also boosted because those phones have celebrity endorsers, strong cameras, and powerful batteries of around 3000 mAh.
"Having just one star flagship model that is marketed successfully is enough to propel a company's shipments in the right direction," says Tay. For example, she cites Oppo's new flagship R9s phone, which took close to half of the company's overall shipments. "Chinese smartphone companies should also consider focusing on one or two key [phones] with clear key messages, rather than stretching themselves thin and trying to diversify their portfolio."
India smartphone market: Chinese brands take over
India boasts a bigger population than even China and a growing middle class, so the India smartphone market is also growing. Although India's Q1 2017 smartphone sales (27 million) were just a quarter of China's, that number is a healthy 14.8 percent growth over the same period last year, according to IDC. But unlike last year, shipments grew sequentially in Q1 2017 by 4.7 percent, recovering from India's large-bills demonetization chaos of late 2016.
Like most Chinese, very few Indians can yet afford iPhones, so it's no surprise that low-end and mid-range Androids are the rage. Already, about half (51.4 percent) of India's Android sales are from China smartphone makers, with 16.9 percent sequential growth and impressive 142.6 percent growth over the same period last year. By contrast, sales of India's own smartphone brands have plummeted to 13.5 percent—way down from 40.5 percent in Q1 2016.
New India smartphone trends
This increasing popularity of China smartphone brands is resulting in more new trends in India:
For the first time, a Chinese smartphone was the hottest seller in India. Xiaomi's Redmi Note 4 was the best seller of Q2 in India, replacing Samsung's Galaxy J2 which was the top model in Q4 2016.
The average selling price (ASP) of a smartphone in India increased to US$155 in Q1 2017, from from US$131 a year ago. This means that the biggest segment in India's smartphone market is now the US$100-U$200 range of devices, accounting for almost half of smartphone shipments in Q1 2017.
Nearly all (94.5 percent in Q1) of India's new smartphones sales are now 4G-enabled. While India's home-grown companies still had half of their portfolio as 3G-only in Q1 2016, China smartphone makers were already supplying the majority of India's 4G devices, so they were ready for the new, faster networks.
Chinese phones are upping India's average screen sizes and Megapixels. China smartphone vendors have focused on bigger screens, with 9 out of 10 smartphones shipped being 5 inches or more in diameter. As a result, sales of sub-5-inch phones in India dropped to just over 21 percent in Q1 2017 from 40.3 percent a year ago. Similarly, over 62 percent of Chinese phones are equipped with primary cameras of 13 Megapixels or more, so almost half of smartphones shipped in India in Q1 had that many Megapixels.
Online direct sales grew, capturing 4 percent of India's smartphone market share in Q1 2017 from a negligible share a year ago. Key to this trend was Xiaomi's well-run Mi.com website, combined with resellers' frequent supply shortages. Overall, online channel shipments grew by 7.7 percent in Q1 2017 over the same period last year.
"India's homegrown vendors are making attempts to recapture lost ground with new launches in the sub-US$100 and mid-range segment, but intense competition from [Chinese] vendors is expected to increase in coming quarters," says Jaipal Singh, Market Analyst for Client Devices with IDC India. "Recovery for homegrown vendors is necessary for the Indian smartphone market, not only to fill in the vacuum created from last few quarters, but also to fuel the migration from feature phones to smartphones."
India smartphone market vendor highlights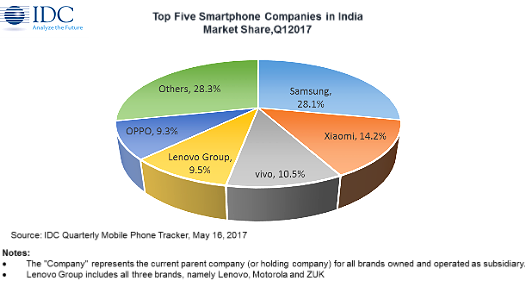 The top five smartphone players in India in Q1 2017, in order of sales, are: -Samsung with over 28 percent, Xiaomi with over 14 percent, vivo with 10.5, Lenovo with 9.5, and Oppo with 9.3 percent.
Samsung saw 16.9 percent sequential growth in the first quarter of the 2017; enabling it to maintain the leadership position in Indian Smartphone market. Shipments grew year-on-year by 21.7 percent. Multiple new launches in Q1 2017 across price bands with J2 series additions, C9, A-series (2017 versions), etc. incrementally contributed over a million units to the already successful Samsung's product line up.
Xiaomi secured second place with healthy 39.8 percent sequential growth in Q1 2017 over previous quarter. Two new launches—Redmi Note 4 and Redmi 4A—in the first quarter of the year not only drove the volume growth for Xiaomi but also helped vendor to lead online smartphone shipments with 40.6 percent share.
Vivo climbed up to third place in Q1 2017 compared to its presence outside the Top 10 in the same period last year. Its shipments grew 44.2 percent over Q4 2016 to secure 10.5 percent vendor share. All the new launches from this brand were targeted towards strengthening the US$150+ segment, which is expected to be a high growth segment this year.
Lenovo (including Motorola) slipped to fourth as its shipments remained flat over previous quarter. However, shipments grew at a healthy 33.7 percent over Q1 2016. Contribution from retail and expansion of its presence in the offline channel has been challenging for the vendor since last few quarters.
Oppo stands close to Lenovo group in vendor share but at fifth position. Shipments grew by 14 percent in Q1 2017 over the previous quarter and more than doubled over the same period last year. While Oppo's online shipments saw marginal traction through its exclusive launches, it continues to be focused on the offline channel with aggressive marketing and channel support.
Overall mobile phone market shipments in Q1 2017 was 56.6 million units with a marginal sequential dip of 3.2 percent. Feature phones registered 29.7 million units in Q1 2017 with a 9.4 percent decline over previous quarter. While feature phone market remained flat over the same period last year, healthy growth from smartphones resulted in overall mobile phones market to post 6.5 percent growth in Q1 2017.
For the full reports, see IDC's website.