2017 Mobile Star Awards Sponsor / Entrant:
Mobile Dieting or Nutrition App — The iDiet

2016 Mobile Star Awards Sponsor / Winner:
Mobile Dieting or Nutrition App — The iDiet
Company Profile:

iDiet (Instinct Health Science Inc.)
Mailing address:
32 Pigeon Hill Road
Weston MA 02493
Tel: (+1) 866-604-662
Email:  info [at] theidiet.com
theidiet.com

Structure:  Private company, established in 2011
Approx. Number of Employees:  20
OS Supported:  Apple iOS (iPhone, Apple Watch)
Change your habits; Change your life!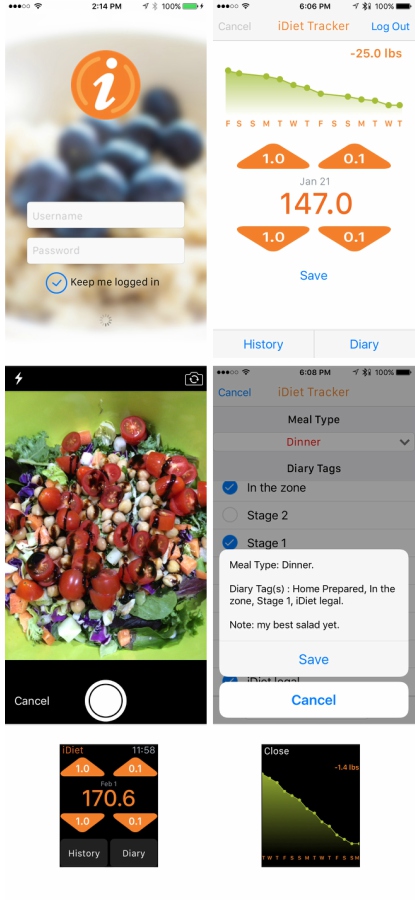 The iDiet app simplifies weight tracking and food logging for dieters. It also makes personalized coaching possible by streamlining the collection and sharing of food logs. Dieters can snap and add food photos to their food log.
Repetition is the key to healthy habit change, and the iDiet app facilitates habit change through speed and convenience.
The iDiet app won't make you hungry!
The iDiet is the only commercially available diet and nutrition program that's been shown in peer-reviewed, published studies to reduce hunger during weight loss. This means participants are less hungry while dieting than they were when they were gaining weight. This is a revolutionary finding with tremendous potential, given the world's large and growing obesity rate and associated healthcare costs.
The iDiet is also the only diet program proven via fMRI brain scans to reduce cravings for unhealthy food and increase cravings for healthy food.
Typical weight loss on iDiet is 2 to 3 times greater than other major programs, and weight loss is typically sustained beyond a year after program's end — compared to the typical weight regain after cessation of other programs.
You can download the free iDiet app for iPhone and Apple Watch right now from Apple's App Store.
Recent iDiet News:
The Skinny on Fat, Part 1: Moderation is Sexy