Thanks to an innovative, custom-designed insurance sales app, thousands of sales agents for one of the world's largest private sector insurance companies can close deals anywhere—and faster. India's ICICI Lombard General Insurance has issued close to 20 million policies and settled well over two million claims. Many of those transactions were possible thanks to the iPartner Agency mobile app, which the company designed in-house.
Innovative insurance sales app features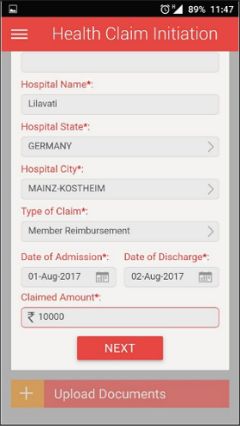 The iPartner Agency app lets ICICI Lombard's authorized agents or advisors deliver fast quotes for health and motor vehicle insurance to customers by email, SMS text, WhatsApp or Facebook. The insurance sales app can issue policies and renewals within minutes. For example, advisors can get real-time motor claim information and issue motor vehicle policies instantly in the app with only a customer's registration number and Aadhaar (citizen ID) number.
To further verify a customer, the iPartner app also allows for Aadhaar-enabled eKYC (Know Your Customer) registration using QR code scan, OTP authentication and also biometric authentication. KYC documents can be scanned and uploaded, and documents can be e-signed in the app for a completely paperless transaction.
The iPartner app also enables instant policy payments via cheque, direct deposit, credit or debit cards, netbanking, wallets and UPI. If a customer can't immediately provide all required payment information, an ICICI Lombard agent can start a payment entry and complete it later when all information is provided.
For customers who want immediate auto service or medical appointments, the app also includes location based access to garages, hospitals and branches, pre-policy medical checkup appointment booking, and offline health calculators for use by advisors.
Agent training and tracking, too
The iPartner Agency app even includes new employee onboarding and training features, including a digital IC-38 training module and tutorials. The app also gives agents or advisors mobile access to their Advisor Portfolio, which includes a Performance Dashboard, Achieved Business, and Summit Status.
If agents have an issue or suggestion, they can submit feedback and raise a support ticket directly from the iPartner app, and even video conference with a claims manager. Finally, the app also offers real-time notifications on the latest sector news and products, so agents are always kept current.
The iPartner Agency insurance sales  app is a "Best of 2017" Mobile Star Awards Nominee; you may vote here (once only) through January 15. You can contact ICICI Lombard below:
"Best of 2017" Mobile Star Awards Nominee:
Custom-Designed Company Business App — iPartner Agency app
Company Profile:

ICICI Lombard General Insurance Ltd.
414, P.Balu Marg
Prabhadevi, Mumbai-400025
icicilombard.com
Contact: /support/contact-us

LinkedIn:  /company/icici-lombard
Facebook:  /ICICILombard
Twitter:  @ICICILombard
Structure:  Public company, founded in 2001
No. of Employees:  5,000 – 10,000