2016 Mobile Star Awards Winner:
Mobile Healthcare Management – RistCall with Harbinger Systems
2013 & 2014-15 Mobile Star Awards Winner:
Mobile Navigation App – QuickFind Numbers (2014-15)
Mobile Task Manager App – Contractor's Aid (2013)
Enterprise Mobile Workforce Management – Contractor's Aid (2013)
Company Profile:

Harbinger Systems
139, "Siddhant", Survey No. 97/6
Off. Paud Road, Kothrud
Pune – 411038, India
(+91) 20.2528.4201 / 2 / 3
hsinfo [at] harbingergroup.com
harbinger-systems.com 
Contacts:
Srinath Vaddepally, CEO, RistCall — srinath.vaddepally [at] ristcall.com
Saru Sawaikar, GM – Marketing & Strategy — saru [at] harbingergroup.com
Structure:  Private Company, established in 1990
Number of Employees: 500+
OS Supported:  Android, iOS (Ristcall is Android only)
How RistCall benefits both nurses & patients: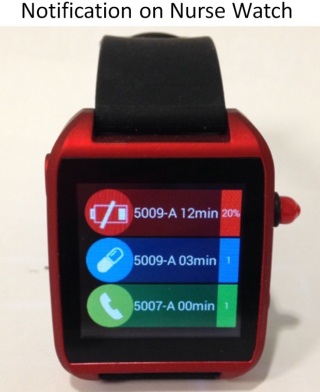 Harbinger Systems developed a comprehensive wearable patient care app for RistCall–a US-based firm focused on improving patient safety, satisfaction, and quality of care.
The IoT-based app works on Android smart watches and helps ease the communication between nurses and patients by replacing the traditional call-bell system of hospitals, thereby improving patient well-being. With just a single tap, the patient can alert caregivers for assistance, and the smart watch notifies the nurse through tactile feedback, along with the details of the patient who raised the request.
The wearable patient care app simply brings in the patient call-bell and nursing station on the wrist device for better attentiveness. Salient features of the patient care app are:
An easy to use, intuitive user interface and touch screen buttons on the wearable device to enable patients to call for help with ease. Also, the patient gets an acknowledgement that the nurse is on the way to help after the nurse accepts the request.
— Enable nurses, to ask for additional backup and even forward requests to others
— Quick on-the-go info for caregiver with the screen listing the calls that are raised with information like type of request/call, patient id, number of taps by the patient, time since the call is raised
— An administrative dashboard to view collated data, on a daily, weekly and monthly basis to analyze the patients' nature, needs, and assistance requirements
Advantages of the RistCall patient care app: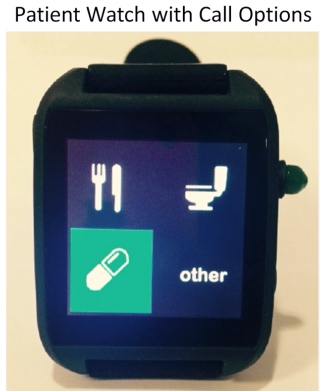 Reach Patients Faster
— Give patients the ability to call from anywhere in the hospital and classify their request
— Provide caregivers with real-time information about the patient's request without the need to visit the nursing station
Attend to Patients Better
— Reduce the number of patient falls with fall-prone-area markers
— Rounding Alerts to remember to check up on patients
Keep Track of the Benefits
— Improve HCAHPS scores by getting patient feedback
— View and analyze trends in patient needs and plan accordingly
Harbinger Systems is the software development partner for the RistCall patient care app. Harbinger Systems is a global company providing software technology services for ISVs and enterprise, with specialization in product engineering. Harbinger Systems builds software solutions leveraging social, mobile, analytics, and cloud (SMAC) technologies and IoT (Internet of Things) for domains such as healthcare, human capital management (HCM), eLearning, and publishing. To know more, visit harbinger-systems.com.
For more information on RistCall, visit ristcall.com.
Among the many other apps developed by Harbinger Systems are two previous Mobile Star Awards Winners: QuickFind Numbers and Contractor's Aid. Check out those apps here.
Recent Harbinger Systems News:
Harbinger Recognized in Zinnov's Annual Global R&D Service Providers Rating – Product Engineering Services
Harbinger Systems Honoured in The 2014 Global Outsourcing 100