Although the global smartphone market grew 16 percent since the second quarter a year ago, the once red-hot China mobile market has cooled off a bit–along with the rest of China's economy. This is bad news for China's growing number of smartphone makers, who will need to look outside of China if they want to keep sales flowing.
That's the conclusion of UK-based mobile analyst firm Juniper Research, who estimates that in total, buyers around the world bought 338 million smartphones in the second quarter (Q2) of 2015, representing year-over-year growth of 16 percent.
China mobile market sees emerging mobile powers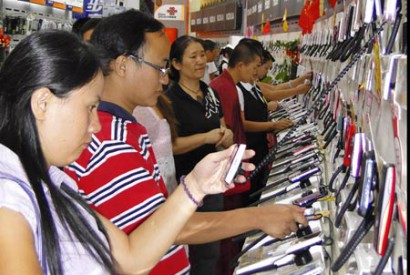 Like general economic trends, the global handset market and China mobile phone market each show a growing gap between winners and losers. For example, the launch of the P8 helped China's Huawei to nearly 50 percent year-over-year growth, and rival Xiaomi shipped 20.5 million–an increase of a third over last year, according to Juniper.
The key difference between Huawei and Xiaomi is that while Huawei is currently making an effort to expand beyond Asia, Xiaomi is not. Juniper says this leaves it vulnerable to the slowing of the Chinese market, which is also affecting China's ZTE. Although ZTE does sell its phones in the US and other countries, the bulk of its sales are still within China.
Samsung: a critical turnaround, but low sales
Unlike China's still-fledgling handset makers, Korea's Samsung has benefited from its already entrenched global electronics channels to consistently win the top spot in global smartphone sales. But with the Chinese phone makers now winning at home and taking more market share abroad, Samsung smartphone shipments have continued to decline.
Samsung's recent launch of the S6 and S6 Edge–expected to ship between 60 and 70 million by the end of 2015–was blunted by reports of delays in components. As a result, the company has not been able to ship the volumes it anticipated and will be "adjusting the price" of the devices to boost sales ahead of new high-end model launches expected in Q3, says Juniper.
Similarly, Korea's LG saw a year-over-year smartphone sales decline of just under 3 percent, after shipping only 14.1 million units.
Apple continues to polish and shine
Unlike Samsung and LG, Apple has seen continued record growth in China, fueling the company's 47.5 million unit sales for the quarter and year-over-year revenues for the China region increasing 112 percent to over $13 billion, reports Juniper.
Microsoft and BlackBerry are still way behind the pack in the smartphone race, although Microsoft in Q2 was steadily increasing shipments in the lead up to its launch of Windows 10 for phones. Microsoft shipped 8.4 million devices–a 12 percent increase over last year.
BlackBerry's decline continued, with shipments just above the one million mark as the release schedule is slashed from four phones a year to just one or two.
You can access Juniper's latest Smartphone Quarterly Report on its website.