In healthcare, infection prevention is still the elusive holy grail — but a new Clinell infection prevention app suite from GAMA Healthcare could be a global game changer.
Every year, over 4 million people in Europe get a healthcare associated infection — with 37,000 dying as a result. Effective cleaning of healthcare environments is critical to protect patients, visitors and staff and to halt the emergence of superbugs.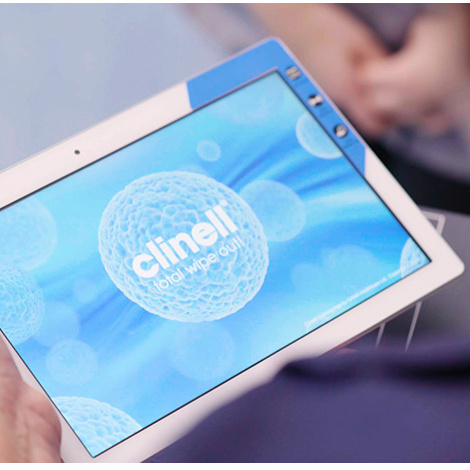 In 2004, GAMA Healthcare revolutionised infection control practices with the launch of the Clinell Universal Wipe. The Clinell Training Package is the next step: the most accessible, fun and comprehensive educational guide to infection prevention and control ever compiled for healthcare professionals.
Created in conjunction with some of the leading infection prevention and control (IPC) specialists in the UK, each individual application within the infection prevention app package aims to arm infection prevention professionals with the very best tools in their fight against healthcare associated infections.
New cleanliness assessment app a big success
The suite's flagship application, Evaluclean, is the most advanced system available for evaluating environmental cleanliness. IPC professionals can mark clinical surfaces with the included fluorescent markers. These marks are invisible until illuminated with the included UV torch. Infection control teams can wait for normal environmental cleaning to take place and then record presence of marks in the tablet-based software.
Not only does fluorescent marker mimic the microbiological data more accurately than other systems (such as ATP bioluminescence), but the use of a UV marker system in an ICU resulted in 40% more surfaces being cleaned.
Evaluclean is completely customisable, allowing healthcare organisations of any size and structure to audit their cleaning effectiveness at micro or macro scale. Evaluclean generates stunning reports that provide infection prevention professionals with the easily readable data they need to make informed policy and training decisions.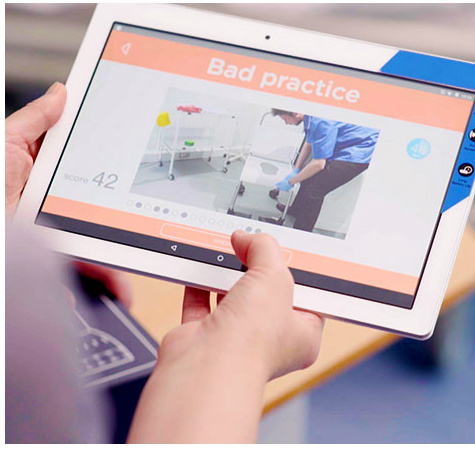 Based on the same framework is the Clinell Commode Audit Tool. Faeco-oral transmission is responsible for several significant healthcare associated infections, including Clostridium difficile. The Commode Audit Tool helps to ensure that proper decontamination procedure is followed at all times, preventing these infections before they occur. Reports can be generated by ward or by commode.
When combined with the AskMe survey app to assess staff perceptions and competencies, infection prevention specialists can make informed purchasing decisions and identify areas of an organisation that may need further training.
Infection prevention app training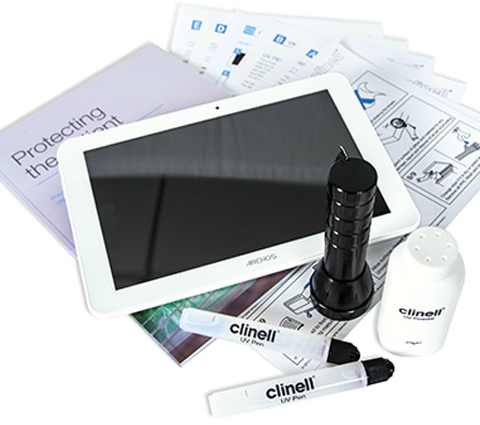 In areas where infection control practice is inadequate, the Clinell Training app allows infection prevention specialists to create beautiful slideshows in minutes. Clinell's pre-populated slides cover a broad range of topics and are easily supplemented with the included best practice videos.
All the training content is based on the most up-to-date evidence and, in addition to being hyperlinked to the relevant studies, is detailed and appraised in the accompanying "Protecting the Patient" 50-page booklet.
All training can be supplemented with the Clinell Games: teaching everything from proper wiping technique to recognition of key, high-touch points in a way that's interactive and fun.
The Clinell Training Package allows infection prevention specialists to make better, more informed decisions. It frees them up to spend more time engaging with staff and advocating evidence-based policy. Most importantly, the Clinell Training Package helps ensure every patient gets safe, effective healthcare. end Clinell infection prevention app feature
2017 Mobile Star Awards Entrant:
Enterprise Mobile Healthcare Innovation — Clinell Training Package
More Information:

Clinell (GAMA Healthcare)
2 Regal Way, Watford,
Hertfordshire, United Kingdom, WD24 4YJ
Tel: (+44) 02079930030
clinell.com

Facebook:  /Clinell-668093796677806
Twitter:  @Clinell
Contacts:
Suzie Hammouche, Administrative Director — s.hammouche [at] gamahealthcare.com
Adam Train, Clinical Administrator — a.train [at] gamahealthcare.com
Structure:  Private company, established in 2004
OS Supported:  Android
Recent Clinell News:
GAMA Healthcare makes the Sunday Times HSBC International Track 200
GAMA Healthcare acquires Clinell division of Australian distributor, AMCLA