Are you trying to decide between an e-reader and a tablet? Nook products offer several options to have the best of both worlds: one device focuses more heavily on features that help you enjoy your favorite books, while the other style of device focuses more heavily on overall convenience. Which device best suits your needs? The following comparison of features should aid in choosing between the standard Nook HD e-reader or the new Samsung Galaxy Tab 4 Nook tablet.
Dimensions
 & Appearance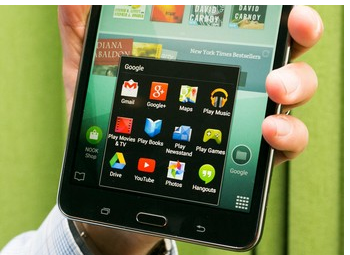 The Samsung Galaxy Tab 4 Nook has a 7.36 x 4.25 inch display. The device is slightly smaller than the Nook HD e-reader, which Barnes and Noble lists as measuring 7.7 inches by 5 inches. Both devices, once in one of Barnes and Noble's custom shell cases, offer the user a feeling similar to that of holding a standard hardcover book, minus the paper cuts. Uncased, both devices have a leathery feel, rather than the piano finish typical of most tablets.
Screen Features
A crisp 1440 x 780 screen resolution on the Samsung Galaxy Tab 4 Nook–while clear–is a downgrade from the 1440 x 900 resolution of the Nook HD. However, the Galaxy Tab 4 Nook offers a multi-view screen option.
Both devices have a background and text color change option as well as day and night reading modes. Color change options help reduce eye strain when reading for long periods of time or at night because bright LCD screens can cause eye strain and affect vision, according to the optometry and ophthalmology communities.
Book Access
Just like the Nook e-reader, the Samsung Galaxy Tab 4 Nook is linked to Barnes and Noble's extensive e-book library. The Nook HD reader offers a scrapbook option that is not offered on the Samsung tablet. But most of the other e-reader features are the same. There is also an option to load previously purchased e-books from an existing Nook account to the Samsung tablet.
With the Samsung tablet, users also have options for sourcing e-books from other websites such as downloading comics from Marvel. In addition to the millions of free classics from Barnes and Noble's library, along with the millions more available for purchase, both devices offer a nearly endless source of literary entertainment. Consumer Reports points out that the addition of video and music options that are available through increased online access, extends the entertainment access even further.
Web Access
On the standard Nook e-reader, web access is limited. However, with the Samsung Galaxy 4 Nook, web access is virtually unlimited. The speed of the tablet is comparable to that of a standard tablet and Google search and apps are easily accessed. Samsung's technology allows for fast 4G WiFi web access, meaning you can quickly jump online at your favorite coffee shop, school, or library. The Nook HD also offers limited web access but lacks the versatility of the Samsung tablet.
Availability of Apps
When using a Nook e-reader, you are limited to Barnes and Noble's app store for app download options. You cannot download alternative keyboard apps or apps from competing e-book sellers like Kindle. However, with the new Samsung Galaxy Tab 4 Nook, you can download keyboard apps, movies, mp3s, and nearly any other app you find via a Google search. Also, with most of the Nook products you have little leeway in removing pre-installed apps. On the Samsung tablet, you can delete most of the pre-installed apps(with the exception of Nook specific apps like the Nook Library) which gives you more freedom to customize your device.
.


Conclusion: The Galaxy Tab 4 Nook is a worthy upgrade
In many ways, the Samsung Galaxy Tab 4 Nook is very similar to many of the Nook products the proceeded this new device. It is essentially a regular Samsung tablet with all the bells and whistles of a tablet, but with Barnes and Noble's own Nook flavored software to turn it into a multi-purpose e-reader. There are a few built-in features on the Galaxy tablet that you will not find on an e-reader, but the regular Nook e-readers have the advantage of simplicity, i.e., they are straightforward e-readers.
If you already have a Nook HD or other Nook device and want to try the newest Samsung Galaxy Tab 4 Nook, you can easily transfer your preferences, saved books, and notes from your old device to the new one — a money saving perk to upgrading.