MobileVillage (MV) and Appcelerator (APP) bring you a quick read of the biggest mobile apps news and other mobile tech news stories. In this week's mobile news roundup: HomePod preorders, Google Clips preorders, Galaxy S9 preview photos, cheaper iPhone X rumors, iOS 11.3 preview, Android wifi speed labels, Google AR viewer, HoloLens hard hat, VR browser, classroom VR, Line & Robinhood cryptocurrency trading, earnings reports and more.
Top photo: Three new giant spheres at Amazon's Seattle headquarters. More photos on Bloomberg
Apple, Google earnings
If you follow quarterly earnings reports, this week had a lot of them to read. Most of the mobile tech giants did quite well last quarter. Apple sold fewer iPhones than expected in the last quarter, but its pricier iPhone X helped make up for that. The company raked in $88.3 billion in revenue in line with estimates, and total sales were up 13 percent — a new quarterly record for the company.
Google's parent company Alphabet fell short of expectations but still brought in $32.3 billion in revenue in its fourth quarter, mostly from advertising. Google's Play app store, hardware sales and enterprise business together contributed to $4.69 billion from its "other" revenues category. Further below you'll find more earnings summaries from Samsung, Microsoft, Qualcomm and Broadcom. — MV
Facebook Oculus jobs
Looking for a real job in virtual reality? Postings for Facebook Oculus jobs have now tripled, with over 440 openings. These Oculus jobs span 20 departments, with 80 job openings just in the company's research department. In addition to its VR hardware, Oculus says its also investing $250 million in external VR content projects. And in early January Facebook announced that it invested as a founding partner of the University of Washington's Reality Lab, a $6 million venture that could funnel more AR and VR talent to the company. — MV
Samsung Galaxy S9 preview photos leak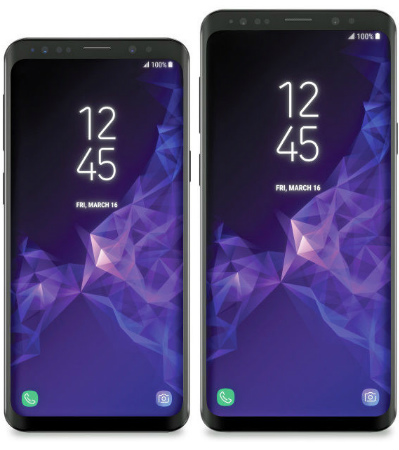 After all of the rumors, we now Samsung Galaxy S9 preview photos a full five weeks before the company's planned launch. Reliable phone leaker Evan Blass has posted images of the front of the Galaxy S9 and S9 Plus, which look similar to last year's models except for some small differences and oddly larger looking screen bezels.
The new Galaxy S9 preview photos show lots of cameras and sensors above the screen, likely for better face recognition and authentication and possibly for Samung's new Intelligent Scan feature. The new camera and sensors may also help you take front-facing selfies with a portrait effect, like the Pixel 2 and iPhone X. The Galaxy S 9 will also have a "reimagined" main camera with a new sensor that's rumored to allow users to snap as many as 1,000 photos per second.
Fortunately, we won't have to wait long to find out the real Galaxy S9 specs, because Samsung will show the phone off on February 25 at Mobile World Congress in Barcelona. — MV
Samsung steals chipmaker crown from Intel
Meanwhile, Samsung just posted a record $14 billion profit for its fourth quarter and $50 billion for all of 2017, thanks mainly to its booming display sales and chip sales. In fact, the company is now the top producer of computer chips (including mobile), stealing the crown from Intel. Samsung also split its stock 50 to 1, making its share price jump even higher. — MV
Cheaper iPhone X alternative coming this fall?
Speaking of cheaper models, Apple is reportedly working on a 6.1-inch iPhone for 2018. It is believed the new phone will skip some of the more advanced features of the iPhone X, such as a dual camera system, as well as 3D touch. It might come equipped with an aluminum frame and LCD display instead of OLED, which could drop the price to $700-800.
Meanwhile, the iPhone X sales for the last quarter went well with more than 29 million units shipped, just short of analyst projections of 30 to 35 million. That's according to a new report from tech analysts at Canalys, which called the iPhone X the "world's best-shipping smartphone" over the holiday season. Apple's iPhone SE, 6s, 7 and 8 models also shipped well in Q4, according to the report. — AP & MV
Apple HomePod preorders start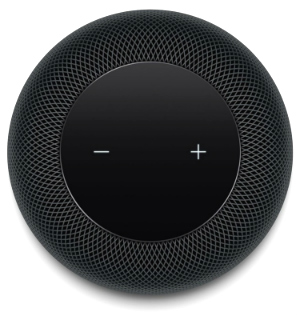 HomePod is here: The Wi-Fi connected speaker offers Siri voice control, HomeKit support, and virtual surround sound with higher-end quality. But if you have second thoughts about buying a $349 device that isn't yet in stores and has no previous versions, head to iMore for tips and tests of HomePod vs other speakers.
For the same price as one HomePod, for a limited time you can now get two Sonos One smart speakers at the same $349 price, or £349 in the UK. (Sonos One smart speakers normally sell for $199 each.) Sonos One smart speakers feature Amazon Alexa and will also soon support Google Assistant and Apple AirPlay 2. — MV
Google Clips preorders begin, delivery in March
Google Clips, which uses machine learning to take photos and 7-second video clips for you, from any vantage point where you can put it, was announced last October and is finally up for preorders. Clips has a 130-degree field of view, 16 GB of storage, and records at up to 15 frames per second. Google Clips can recognize individual faces, automatically capture clips and photos, and encrypts everything it records on the device before it's even sent to your phone. But its 7-second video clips and stills have no sound, and battery life is limited to just three hours. Today you can finally order one, but you'll have to wait until March for delivery. — MV
Android WiFi speed labels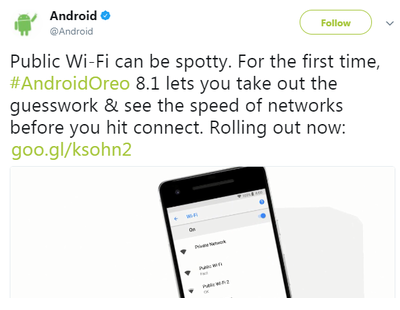 Google has added a nifty new feature for Android Oreo 8.1: a label that shows users network speed before connecting to a network. The company hopes it will help users better decide which network to join. The new labels are "Slow, OK, Fast and Very Fast" with each label reflecting a standard speed range. Slow has enough juice for calls and texts, OK can manage social media and music streaming, Fast works for most video and Very Fast supports high quality video streams (and everything else). The feature is rolling out now and can be disabled if desired. — AP
Apple iOS 11.3 preview version out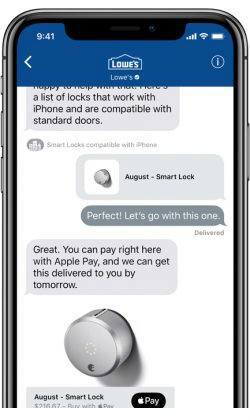 Apple's iOS 11.3 preview or beta is now available, giving us the first look at iCloud Messages, new Animoji, upgrades to ARKit 1.5 (more on that below) plus more new features and changes.
Messages on iCloud were originally slated for release when iOS 11 dropped in September, but was removed before launch and promised at a later date. That time is now, and with the preview users can free-up some device space by storing iMessages and attachments in the cloud.
With iOS 11.3 preview, Apple is also rolling out a new iMessage feature called business chat that will allow consumers to engage with businesses directly through the app. Business chat will allow users to chat with service reps, schedule appointments and even make payments through Apple Pay. Early adopters will include Discover, Hilton, Lowe's and Wells Fargo.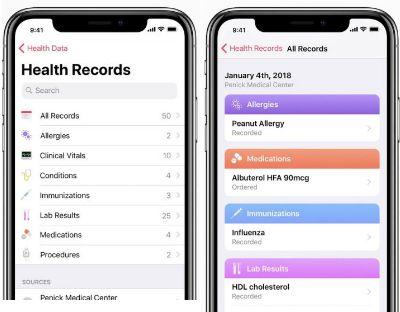 Other additions include a medical records storage feature for the Health app, some small App Store and Apple News changes and HomeKit software authentication support. And as finally, the update will tell you more about your battery health and allow you to turn off the power management feature entirely, though Apple does not recommend disabling it. The new features will be available in Settings -> Battery and are available for iPhone 6 and later.
Apple's iOS 11.3 is scheduled for public release this spring. — AP & MV
Apple ARKit 1.5 updates
Tied to the release of iOS 11.3, Apple's upcoming ARKit version 1.5 will introduce the ability for apps to map irregular surfaces and vertical planes. This means users will be able to place virtual objects on vertical surfaces such as walls and doors. The update will also see ARKit support 1080p virtual images, which it did not do previously. — AP
Google AR viewer drops web objects into real life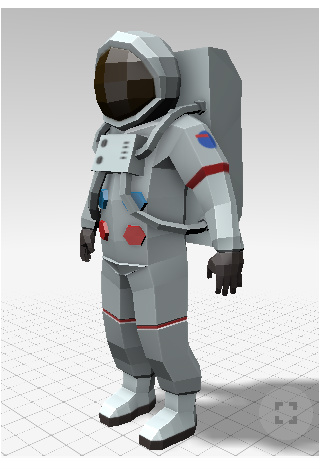 Unlike Apple's walled garden approach to AR, Google is working on cross-platform AR tools. To that end, Google has just introduced a prototype 3D model AR viewer that can work in any web browser, including Safari on iDevices. The viewer, called Article, aims to bring more virtual and augmented reality elements into your everyday web browsing and make them as easy to share as gif or jpeg image files.
According to Google's Daydream WebXR team, the new effort will allow designers or developers to create 3D objects for websites that could be downloaded to any smartphone and "placed" into the real world. As with 2D image files, you'll be able to manipulate 3D models by dragging them, pinching, or scrolling to zoom.
And if your Android phone can run Google's ARCore software, you'll see a button that you can press to place the 3D AR object into your actual environment. For example, a teacher can launch a 3D model of an astronaut found on a web page about the Moon landing into the classroom as a way to engage and teach children with interactive experiments. (See video below.)
By making its AR viewer work on mobile browsers, Google can maintain its cross-platform advantage and ensure that future AR experiences won't be limited to just iOS. — MV
Supermedium launches VR browser
In related news, a startup called Supermedium has a new VR browser based on the new WebVR standard. That means that with the click of a link, you can experience 3D-like VR experiences in just two or three seconds. Although all major browsers except for Safari and Opera now support WebVR, Supermedium wants to become the home for VR memes, small games, stores and VR web pages.
If the Supermedium's VR browser dream becomes reality, we might see the company one day being eyed by Google, which last fall announced its Poly online 3D library for developers and users. Oculus and Samsung have already each released a VR browser, but like Google's AR viewer, those so far focus on transforming 2D website images into 3D. — MV
Microsoft, Trimble team on HoloLens hard hat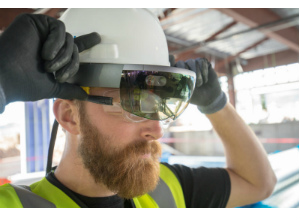 Location based tech company Trimble now has a hard hat for construction engineers or field workers to wear with Microsoft HoloLens AR glasses. Trimble's MSA V-Gard hard hat protects the HoloLens from dust or impact, and has quick-release clips. When paired with the Trimble Connect app, the HoloLens hard hat lets workers turn data into life-sized holograms are visible to them in their actual working environment and in training sessions. The app also lets you share holographic data for projects and tasks like quality control and progress monitoring.
The MSA V-Gard HoloLens hard hat is Microsoft certified and meets standard basic impact protection requirements. The HoloLens hard hat will be available in the coming weeks, but you can try out the Trimble Connect app now as a free trial option. Microsoft's HolonLens retails for about $3,000. — MV
NextWave offers VR workplace safety training
NextWave Safety Solutions has released two of eight planned VR workplace safety training experiences. The company's "Hazard ID" and "Forklift" VR experiences are the first two of eight VR workplace safety training experiences planned for 2018. The VR training modules use the HTC Vive headsets and physical pedals to help simulate driving a forklift. NextWave customers have access to a full range of OSHA and IACET-certified workplace safety training programs offered in English, Spanish, Mandarin, Italian and Polish that can be done on site or at one of NextWave's facilities. — MV
Lenovo classroom VR package
We covered Lenovo's Mirage Solo standalone VR headset shown off at CES 2018, and now the company is offering a classroom VR package that includes the headset, a Lenovo Tab 4 Plus 10-inch Android tablet, a commercial router, a charging case, 700 Google Expeditions instructional videos and lesson plans. But this classroom VR set is for schools with big budgets: the three-student set will be available in the U.S. this spring and in Canada in the fall for US $2,900. There will also be 10-student and 24-student packages, with pricing not yet announced. — MV
India's ixigo train travel app adds new features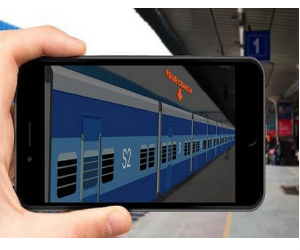 India's ixigo train travel app has added an augmented reality feature called Coach Position that will locate your coach and seating area for more than 13,000 passenger trains across India. To use the feature, you aim your phone's camera at the train platform and the app uses AR to show you the train positions overlaid on your camera display. Ixigo also plans to add station alerts and live updates on train status or schedules. Ixigo's train travel app has more than 7 million monthly active users. — MV
Line & Robinhood apps to add cryptocurrency trading
Robinhood Financial's popular free stock trading app and Asia's popular messaging app Line are each jumping on the cryptocurrency trading train. The apps will let users buy and sell digital currencies like Bitcoin, Ethereum and Ripple, in order to compete with top cryptocurrency trading apps like Coinbase. Line may also let its users pay bills using cryptocurrency.
Japan's Line reported a surprise loss in the recent fourth quarter, but will invest 30 billion yen in financial tech and AI operations this fiscal year. The company plans to provide the offerings inside its messenger app, possibly as part of its Line Pay smartphone wallet service. Since launching in 2014, Line Pay has gained 40 million registered users who last year made 450 billion yen in transactions.
US-based Robinhood doesn't yet have a paid product, since the company doesn't yet charge users to buy and sell small amounts of stock except for trades on margin. Robinhood says its cryptocurrency trading fees will be just to recoup the costs, with no commission, but the company will have to make money somehow. It will roll out the cryptocurrency trading service gradually and says it should be available to most U.S. users by midyear.
In 2017 Bitcoin shot up in value more than 14-fold, but since the beginning of the year, it has fallen about 20 percent. As more people buy and sell Bitcoin, transaction times have slowed to the point where many traders are complaining. Online credit-card processor Stripe last week said it would stop accepting Bitcoin due to the long transaction times and high fees. — MV
Google Play app downloads break quarterly record
Emerging markets continue to help the app business flourish, this time boosting Google Play to a new quarterly record for downloads. According to a new report, the store surpassed 19 billion downloads in Q4 2017. The number is not only Google's largest to date, but also the biggest lead Android has held over iOS at a staggering 145% more downloads. The surge was led by games, finance and personalization apps.
While Apple may have lost the download battle, it handily led in worldwide consumer spend with $11.5 billion total for the quarter (2x as much as Google Play). The report also notes that for the first time ever, India surpassed the U.S. in combined iOS and Android downloads. — AP
Apple to support Malala Fund for girls education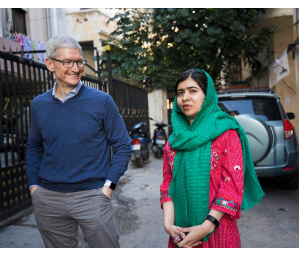 Apple announced that it will become the first Laureate partner of the international girls education organization Malala Fund, founded by Nobel Peace Prize laureate Malala Yousafzai. With Apple's support and Tim Cook joining Malala Fund's advisory counsel, expects to extend its programs to India and Latin America, and double its grant funds globally to help an estimated 130 million girls who are not in school.
Apple has been already been providing schools by donating its Swift coding curriculum for all K-12 grades, as well as programs for technical colleges and adults who want retraining for second careers. — MV
Google completes HTC's Pixel phone division acquisition
Google announced in a blog post that it has completed its billion-dollar deal to acquire the division of HTC that makes Google Pixel phones, as well as a non-exclusive license for its intellectual property. With the acquisition, Taipei is now Google's largest engineering site in the Asia Pacific region. For its part, Taiwan's HTC plans to continue making mobile devices under the HTC brand, including HTC's Vive VR headsets. HTC also plans to expand its reach in AR, AI and IoT (Internet of Things) technology. — MV
Earnings reports from Microsoft, Qualcomm, Broadcom
Microsoft pulled in nearly $29 billion last quarter, but reported a net loss due to owing $13.8 billion in taxes on overseas cash due to recent changes to U.S. tax law. The company's cloud and corporate sales continued to do well, with sales of Azure cloud-computing almost doubling and Office 365 revenue up 41 percent. On the mobile front, Microsoft has recently been dogged by Surface Pro 4 owners complaining of screen flickering issues.
Smartphone processor powerhouse Qualcomm narrowly beat estimates with quarterly earnings of just over $6 billion, but the company also confirmed a slowdown in smartphone demand. Qualcomm has been hit with regulatory fines in several countries, and as we recently reported, the company is also waging court battles with Apple, which stopped paying its licensing fees over a year ago. Meanwhile Broadcom, which has been bidding to buy Qualcomm, reported a strong quarter. — MV
And finally…
How many coders does it take to turn on a (app controlled) lightbulb? See how many in this fun cartoon on Kubernetes.
This mobile news roundup was composed by MobileVillage Editor Gary Thayer and Erin Bailey of Appcelerator, a top mobile development platform company. Want your news featured in 'Mobile Week'? First check out our submission guidelines. We give preference to mobile news about mobile trends, innovations, major app updates, major players & official Mobile Star Awards Nominees.
This week's mobile news tags: Facebook Oculus jobs, HomePod preorders, Google Clips preorders, Galaxy S9 preview, cheaper iPhone X, iOS 11.3 preview, Android wifi speed labels, Google AR viewer, HoloLens hard hat, VR browser, classroom VR, Line & Robinhood cryptocurrency trading, earnings reports, Google Play app downloads