2012 & 2013 Mobile Star Awards Winner:
Enterprise Mobile Data Capture or Database — FotoNotes
Company Summary:
Fotobabble (DBA FotoNotes)
1700 Broadway Avenue, Suite 702
Oakland, CA  94612
(+1) 510-545-9030
info@fotonotes.com
www.fotonotes.com
Company Contacts:
> Kamal Shah, CEO, kamal [at] fotonotes.com
> Michael DeLapa, VP Marketing, michael [at] fotonotes.com
> Robin Droppa, VP Sales, robin [at] fotonotes.com

Company Structure:  Private Company, established in 2010
Markets:  Consumer, Engineering & Surveying, Field Service, Finance, Real Estate, Supply Chain, Utilities
Operating Systems Supported:  All Web Browsers, Android, Apple iOS
Featured Applications: FotoNotes for mobile forms, data capture & more
FotoNotes provides a mobile-first solution that transforms how property and facilities management, field service, construction, and other mobile work is managed.
FotoNotes streamlines:
— Property, facility and preventative maintenance
— Project management – punch list and project status reporting
— Inspections, appraisals and site surveys
With FotoNotes you can:
— Mobilize your existing processes, tasks, and forms
— Access all the information you need to do your work anywhere anytime
— Report status of work, document issues
— Capture and communicate with mobile forms data, photos, voice notes, GPS, time/date stamps, bar codes on a mobile phone or tablet
— Store, manage and share information securely and in real time
With FotoNotes you will:
— Make mobile workers more efficient and productive
— Gather more accurate, complete and consistent information
— Improve real-time communication and access to information
— Save time and money, deliver better customer service and differentiate from your competitors
FotoNotes includes:
— A fully customizable platform
— Powerful, easy to use native mobile applications for iOS and Android* (*coming soon)
— Cloud storage and secure web application management of information
— Standards-based API that allows seamless integration into any system
Recent FotoNotes News on MobileVillage: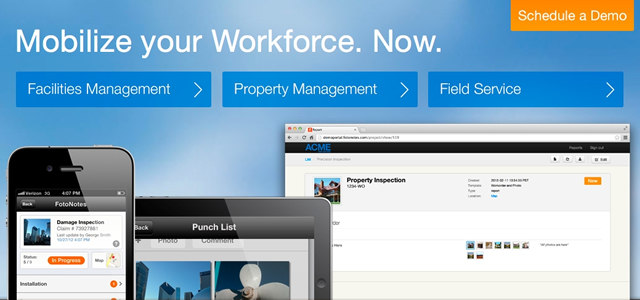 Founded in 1993, PDA Inc. (dba MobileVillage) is a market and solution development company dedicated to advancing mobile technology in a wide range of industries. We foster education and alliances through news, an online directory, the annual Mobile Star Awards program, events listings, partnerships, and "Best of Breed" mobile solutions.

Latest posts by the MobileVillage team (see all)