2013 Mobile Star Awards Winner:
>  Enterprise Field Service — FieldOne Sky & Sky Mobile
>  Enterprise Mapping / Location Based Services — FieldOne Sky & Sky Mobile
>  Enterprise Workforce Management — FieldOne Sky & Sky Mobile

2012 Mobile Star Awards Winner:
>  Enterprise Field Service — FieldOne Sky & Sky Mobile
>  Enterprise Mapping / Location Based Services — FieldOne Sky & Sky Mobile
Company Summary:
FieldOne Systems
F1 International Blvd.
Mahwah, NJ 07495
(+1) :  201-252-8900 x4226
www.fieldone.com
Company Contacts:
>  Dave Wallen, Director of Marketing,  dwallen [at] fieldone.com
>  Jim Hare, Sr. Vice President,  jhare [at] fieldone.com

Company Structure:  Private Company, established in 2001
Operating Systems Supported:  All Platforms, All Web Browsers
Featured Cloud Based Field Service Solutions: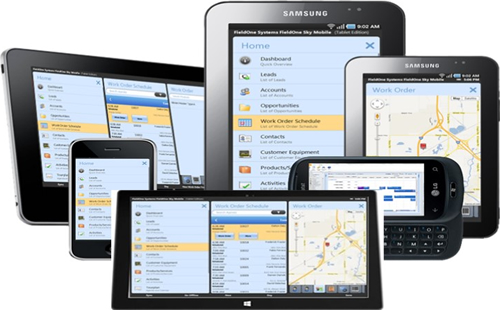 FieldOne is a cloud based field service management solution provider. FieldOne has revolutionized the Service Industry by offering Sky & Sky Mobile – enterprise-class SaaS platforms that enable organizations to streamline their entire field service operations by efficiently scheduling and dispatching their technicians, while increasing productivity by eliminating many redundant and wasteful business processes.   Built for enterprise-level scalability, FieldOne Sky integrates seamlessly with existing CRM or ERP solutions.  Additionally, the SaaS model allows businesses to avoid any complex software installations, with instant upgrades delivered directly to the platform, optimum security and backup, limitless storage and "always-on" cloud based field service capabilities.
Sky's agile platform enables companies to deliver world class customer experiences in the field while maximizing efficiency and minimizing costs. Flexibility of deployment, on-demand configuration and rapid deployment allow companies to quickly and effectively leverage Sky's capabilities and features.
Sky's capabilities can easily be extended to the field with Sky Mobile, connecting to any smartphone, tablet or laptop via native apps for iOS, Android, and Windows devices.  Sky Mobile is augmented with powerful online capabilities and centralized multiplatform, no-code customization and all-platform management, meaning important changes can be instantly reflected on every mobile platform via remote administration.  With Sky Mobile, companies can:
— Access information on or offline and automatically sync when a connection is available
— Display up-to-the-minute, multi-day field agent schedule and job details
— Get turn-by-turn driving directions to job sites
— Call and email contacts, and browse their web sites within the app
— Update work schedule status in real-time
— See work order problems on the schedule
— Reassign schedules directly from the handset
— Change an unassigned slot to other field agents
— Enter and track parts or materials used
— Access vendor, manufacturer, job site and client contact information
— Record completed schedule slot labor
— Perform and submit paperless field inspection processes
— View and work with reference manuals
— Capture customer signature on-site
Using Sky technology, a dispatcher can successfully locate and map the nearest technician with the proper skill set, through the least amount of traffic, to comply with strict SLA requirements — all with an automated software solution with the intelligence to assist. State-of-the-art FieldOne routing algorithms mask the extremely complex calculations and produce the most optimal solution in seconds, all through a simple, cloud-based interface.