When Facebook last week announced plans to acquire messaging giant WhatsApp for $16 billion in cash and stock–plus another $3 billion in stock gifted to WhatsApp employees–we all shook our heads in collective disbelief. $19 billion for a company that only brought in $20 million in revenues last year?  The WhatsApp deal will be 19 times what Facebook paid for Instagram two years ago, and we all thought that was a crazy amount of money, too.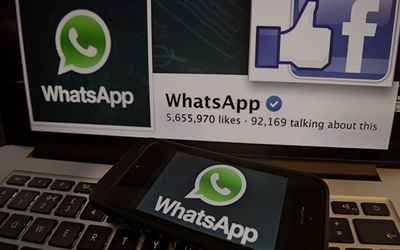 So what's up with the WhatsApp deal, anyway?
Outrunning the competition
First, there's the obvious reason of keeping up with the competition. Insiders say that Google was also interested in buying WhatsApp, and although Google has vociferously denied this, some pundits think that Google was simply outbid.  (Ten billion's not enough?)  Whether Google really bid for WhatsApp or not, Facebook knows that a Google buyout of WhatsApp could jeopardize its social network in favor of Google's Google+ network, which, despite what most of us think, does have some regular users.
Besides Google, Facebook's WhatsApp buyout is also a hedge against the purchase the other week of popular messaging and voice service Viber by Japanese e-commerce giant Rakuten for $900 million. Compared to the $19 billion price tag for WhatsApp, it seems like a bargain, doesn't it? Rakuten and its Play.com Amazon-like sites already boast around 225 million members worldwide, but the company has its sights set on further global domination.
Although Cyprus-based Viber only has about 300 million users to WhatsApp's 465 million, Viber–along with Line, BBM and others–already offer popular voice calling services, and WhatsApp doesn't yet. Facebook wants in on the Voice-over-Internet party too, and now that WhatsApp will add voice this summer, Facebook plans to crash that party in a big way.
Grazing for cash cows in new pastures
While text messaging apps are mostly dependent on ads and in-app purchases like stickers for revenue, premium voice services may be much bigger cash cows. This is because most of us don't think twice about paying a couple cents a minute to call people overseas–especially if we can reach them on their land-lines or feature phones–or video conference with multiple friends or colleagues, without ads. While 30 cents or even a dollar a call may not seem like a huge money maker, multiply it by potentially hundreds of millions of users daily, and watch the money pile up. Microsoft knows this–it bought Skype two years ago for a then-crazy 2 billion dollars. Skype now has 300 million subscribers, and many are paying customers.
Then there's the other potential cash cows of premium games, media services, and other apps with built-in text messaging or voice services. Rakuten wants to dominate not only in online shopping, but also in games, e-books, streaming video, and social networks (it invested $100M in Pinterest). For its part, Facebook has dabbled in most of these with limited success. Not all Facebook users like games, not everyone likes shopping while they're networking, and almost nobody these days pays attention to ads–unless those ads are well-disguised and further improve the user experience. If The Social Network wants to stay alive and relevant, it'll need to find better ways to improve and monetize its user experience, and WhatsApp can help.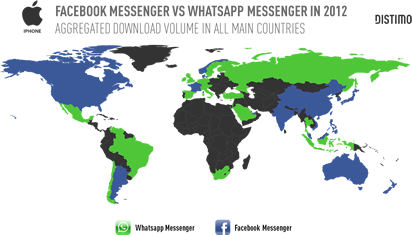 WhatsApp claims that about 315 million of  its users are active daily, an exceptionally high percentage that's about equal to the entire volume of the world's daily SMS traffic. Part of this is no doubt due to its ease of use–unlike other other messaging apps, WhatsApp uses your phone number to send messages instead of requiring a username, password, or friends list of fellow users. Since the messages are sent as compressed data instead of SMS, they won't affect your cellular bill unless you exceed your data limit. After your first year of free service, WhatsApp will charge you just under a dollar a year. If you do a lot of international messaging, it's a no-brainer.
Even if you or your friends aren't big WhatsApp users, the service has millions of fans internationally, especially in populous India, Kenya, Nigeria, South Africa, Brazil and Mexico, where it's the number-one messaging service, according to research by Jana Mobile. Those are all countries where Facebook isn't so popular, and Facebook was eyeing WhatsApp as a possible entry into those markets as far back as two years ago, according to research firm Distimo.
Paying with play money and high hopes
Under Facebook's buyout plan, it will pay for WhatsApp with $4 billion in cash and about $12 billion worth of Facebook shares. WhatsApp's small staff of 55 employees will also strike gold, receiving $3 billion in restricted stock units that will vest over four years. WhatsApp co-founder and CEO Jan Koum will join Facebook's Board of Directors.
If the deal is somehow not approved or falls through, Facebook would compensate WhatsApp with $1 billion in cash and $1 billion in shares of Facebook's Class A common stock.
Facebook says that it will continue to market WhatsApp and Facebook Messenger as standalone messaging applications, although it has not ruled out the likely possibility of merging the two. Facebook also says it won't place ads in WhatsApp, but there are already users who are bailing on the service–fearing the worst or just hating on Facebook.
How will Facebook monetize its WhatsApp acquisition? If the company knows, it isn't telling us. Facebook's Mark Zuckerberg said this week that other new-ish messaging services were already bringing in $2 to $3 a year per user, but it would be foolish to think that all WhatsApp users in developing countries could pay that, and as The Wall Street Journal's Dennis Berman points out, there isn't yet a precedent for a dominant global messaging service raking in big bucks–at least without voice. But if Facebook can help grow WhatsApp to near a billion users at a dollar or two a year, it could do quite well. It also helps, as Berman points out, that WhatsApp already has high operating margins due to its miniscule operational and marketing costs.
At the least, WhatsApp will help Facebook stay relevant in a fast-changing, mobile-centric space–just as it has with its Instagram acquisition. And as Forbes writer Adam Hartung nicely explains, Facebook is gambling most of its latest bet not with cash but with company shares, which are currently valued at 22 times Facebook's 2013 revenue and 116 times its 2013 earnings. If Facebook's share price falls, so does the value of its payment to WhatsApp. (Hartung, though, thinks Facebook stock will do well this year.)
We'll look forward to seeing how WhatsApp dials in voice calling this summer. If it works as planned, you can be sure that Zuck himself will be dialing up his next billion users. Now, that's the real "Facebook phone."