2012 Mobile Star Awards Winner:
>  Consumer App: Medical Reference or Utility  —  Evolution1 Mobile App
Company Summary:
4324 20th Ave., SW
Fargo, ND 58103
(+1) 701-499-7215
sales@evolution1.com
www.evolution1.com
Company Contacts:
Tiffany Wirth, Director of Marketing, twirth@evolution1.com
Lindsey Tuttle, Marketing Manager, ltuttle@evolution1.com
Company Structure:  Private Company, established in 2001
Number of Employees:  222
Operating Systems Supported:  Android, iOS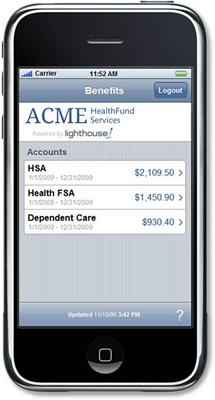 Products & Services Summary:
With the rise of smartphone use and the push for consumer involvement in healthcare, many in the healthcare benefits space are recognizing the need to develop a  mobile app for their customers. Due to the trend for consumers to play an even greater role in their own healthcare as a result of the consumer-directed health movement and soon-to-take-effect Healthcare Reform, mobile apps are one more way to keep track of health, wellness, and benefits.
Evolution1′s Mobile App allows consumers – or employees – to submit claims for reimbursement and send receipts using their mobile device's camera. In addition, they can receive account balances and configurable alerts via text message on any mobile device. Today's technology removes the complexities associated with managing various accounts.
Another important feature the Mobile App offers is its ability to view real-time balances. Consumers who use the mobile app can also check available balances in their Flexible Spending Account (FSA), Health Reimbursement Arrangement (HRA), or Health Savings Account (HSA). This is particularly important for consumers as the end of the year approaches. Consumers and their dependents need to know how much money is available in their tax-favored accounts with FSA "use it or lose it" rules.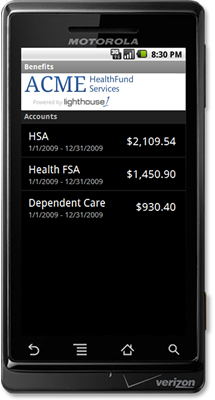 An additional feature exclusive to the Evolution1 Mobile App include the ability to drill into HSA transactions – such as details of HSA distributions and any other HSA transaction, similar to the Consumer Portal, a Cloud-based solution.
Other important features include the Mobile File A Claim, which enables users to submit a new FSA or HRA claim from the Mobile app at any time, and to add a receipt at the same time a claim is being filed.  Also, HSA Transaction Details allows users to drill into details of HSA transactions. The specific HSA information displayed includes details of cash account activity, and participant and employer contributions.
One of the backend features that is of highest importance is level of security Evolution1 Mobile App provides. In addition to being HIPAA compliant, uses the highest level of security available. For added security, consumers have the ability to define a 4-digit PIN to login to the mobile app using enhanced security credentials. Another security feature is the enhanced login. The feature allows users to login to the mobile app with a convenient 4-digit passcode. For added security, no login information is ever stored on the mobile device.
Company News on MobileVillage:
Evolution1′s healthcare cost-control app gets new features