"Best of 2017" Mobile Star Awards Winner:
Emergency & Public Safety Alerts — Everbridge Mobile App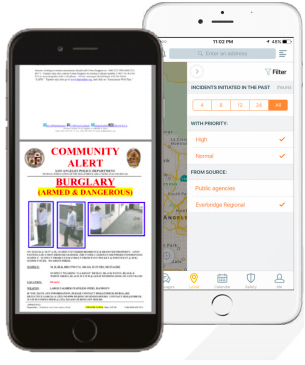 One-way messaging is a thing of the past in today's mobile, on-the-go world. Organizations need the ability to have a two-way conversation with mobile recipients – including their traveling and remote workers – and leverage these contacts to provide the eyes and ears on the scene as a situation develops.
The Everbridge Mobile App allows organizations to request information through polling, and also allows users to submit on-the-scene reports, all through the convenience of their mobile phone.
Leveraging Nixle wire data from 8,000+ public safety agencies across the United States, the Everbridge Mobile App allows residents to easily see geographical visualization of public safety alerts around the physical area they're located in. Users can view all alerts on a map or as a list, and filter alerts based on time, priority and source.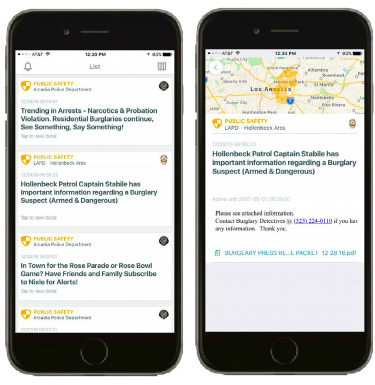 Users can immediately and anonymously receive alerts for a specific city or town by simply texting 888-777.
Alternatively, authorized agencies can automate public safety alerts based on geo-fenced areas identified as Incident Zones and alert all anonymous and registered Everbridge app users in that area, even under adverse network conditions, like when bandwidth or connectivity are limited. This ensures that all notification recipients – even those who are offsite or traveling – will stay informed during the duration of an incident in their travel area.
Public safety alerts with user participation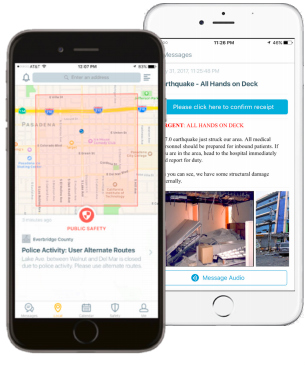 The Everbridge Mobile App also allows users to have a two-way conversation with mobile recipients. As a situation develops, mobile users can help create situational intelligence by sharing geo-tagged photos and free-form text, essentially acting as the eyes and ears on the scene. Users can also respond to standard, conference and polling notifications while on the go.
Everbridge is now a trusted partner to over 3,400 corporations and communities around the globe, including eight of the 10 largest U.S. cities, eight of the 10 largest U.S.-based investment banks, all four of the largest global accounting firms, all 25 of the 25 busiest North American airports and six of the 10 largest global automakers.
Everbridge is a "Best of 2017" Mobile Star Awards winner. You can find out more about the Everbridge Mobile App for public safety alerts and get in touch with Everbridge below.
"Best of 2017" Mobile Star Awards Winner:
Mobile Emergency Alerts & Response — Everbridge Mobile App
2016 Mobile Star Awards Sponsor & Winner:
Mobile Mass Messaging Service — ContactBridge
Mobile Video Communications — SecureBridge for Mobile
Mobile Healthcare Success Story — Centerstone Research Institute
Company Profile:
Everbridge
125 Corporate Dr., 4th Floor
Burlington, MA 01803
or
155 North Lake Ave., Suite 900
Pasadena, CA 91101
Tel: (+1) 818-230-9700
Email: go.everbridge.com/Contact-Us…
everbridge.com
Facebook:  /EverbridgeInc
LinkedIn:  /Everbridge
Twitter:  @Everbridge
Structure:  Public company (NASDAQ: EVBG), established in 2002
No. of Employees:  400+
OS Supported:  All Platforms
Contacts:
Jeff Benanto, Sr. Manager, Corporate Comm. — jeff.benanto [at] everbridge.com
Recent Everbridge News:
New York City Selects Everbridge to Power Citywide Emergency Notification Program
State of Vermont Selects Everbridge to Power State-Wide Emergency Notification Program
Everbridge Announces Major Breakthrough in IT Alerting with Release of Smart Analytics
Everbridge Launches Visual Command Center Version 6
Everbridge Selected by New York for State-Wide Emergency Notification System
See all recent Everbridge news