Epocrates Bugs + Drugs is a new free mobile medical reference app that leverages cloud-based clinical data from more than 15 million patient records sourced from athenahealth's EHR to provide clinicians with timely geolocated information about bacteria types and resistance patterns.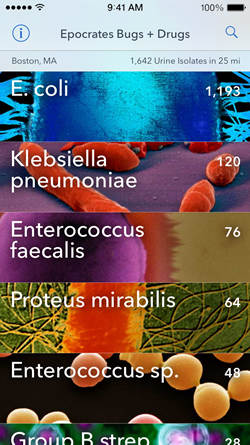 This antimicrobial susceptibility reference app helps clinicians identify bacteria in their patients' communities as well as access sensitivity information to assist in determining treatment options for patients. Of course, physicians must also take into account patient-specific factors and their own judgment, which are vital to any prescribing decision.
According to a recent report issued by the CDC, every year more than two million people in the U.S. contract infections that are resistant to antibiotics, and at least 23,000 people die as a result. Antibiotic resistant bacteria, or "superbugs" such as resistant E. coli and staph, are of great concern because they are increasingly impervious to typical antibiotics. The decision of whether to prescribe an antibiotic and the choice of drug—can affect an entire population.
To compound the problem, many clinicians who work outside of hospitals are unaware of the bacteria types pervasive in their local areas. Traditionally, hospitals have tracked resistance trends on inpatients, but the new Bugs + Drugs mobile medical reference app goes beyond the hospital setting to resistance data based on patient residential zip codes—mainly outpatient data—which has never been publicly available before.
Epocrates Bugs + Drugs was born through feedback from clinicians and is one supportive element in a complex decision process.  Healthcare providers can simply enter their patient's location, then intuitively view bacteria common to the local area, explore potential bacterial resistance patterns and receive antibiotic susceptibility data for each organism.
Key mobile medical reference features:
— Lists of bacteria observed in urine, blood and skin for geolocated communities across the country
— Antibiotic drugs organized by organism susceptibility
— Epocrates' trusted drug content, including dosing and contraindication information with links to complete monographs
— Continual updates from athenahealth's cloud-based EHR database
— A sleek, image-rich interface designed specifically for Apple's iOS 7 operating system
In its first week after launching in late 2013, Epocrates Bugs + Drugs became the #1 free medical app in Apple's App Store. Within a month, it exceeded 100,000 downloads and was accessed over 300,000 times. The app is also a 2013 Mobile Star Awards Winner.
You can connect with and follow Epocrates below.
2013 Mobile Star Awards Winner:

Enterprise Mobile Healthcare Reference — Epocrates Bugs + Drugs

2011 & 2012 Mobile Star Awards Winner:

Enterprise Mobile Healthcare Reference — Epocrates Rx

Company Summary:

athenahealth Epocrates
1100 Park Place, Suite 300
San Mateo, CA 94403
(+1) 650-227-1700
media [at] athenahealth.com
epocrates.com
Facebook:  /Epocrates
LinkedIn:  /Epocrates-Inc-
Twitter:  @Epocrates
Structure:  Public company (NASDAQ: ATHN), established in 1998
No. of Employees:  300+
OS Supported:  Android, Apple iOS
Recent Company Mobile News:
Epocrates Survey Finds 95 Percent of Physicians Have Experienced Difficulty Delivering Care Due to Inaccessible Patient Records