2012 Mobile Star Awards Entries:

>  Enterprise Software: Mobile Printing – PrintMe Mobile
Company Summary:

303 Velocity Way
Foster City, CA 94404
(+1) 650-357-3500
PRAmericas [at] efi.com
www.efi.com
Company Contacts:
Gayle Schaeffer, Director, Product & Channel Marketing, gayle.schaeffer [at]efi.com
Jeff Hansen, Senior Product Marketing Manager, jeff.hansen [at] efi.com
Tom Offutt, Director, Business Development, tom.offutt [at] efi.com
Company Structure: 
Private Company, established in 1989
Markets: 
Education, Field Service, Finance, Healthcare, Hospitality,
Legal, Real Estate, Supply Chain, Utilities
Operating Systems Supported:
Android, iOS, BlackBerry, Mac OS X, Windows Mobile, Windows Phone 7
Products & Services Summary:

EFI's PrintMe Mobile 2.3 solves the BYOD (Bring Your Own Device) problem many enterprises are encountering with regard to printing from mobile devices. Using PrintMe Mobile, the enterprise can now unleash workplace productivity, making the transition to mobile devices seamless.
EFI's PrintMe Mobile is the only enterprise software solution that enables Wi-Fi printing from iPads, iPhones and Android devices to a company's current fleet of networked printers regardless of brand or type. PrintMe Mobile is scalable up to thousands of users across multiple wireless subnets. In addition, from a mobile device on a guest network, users can pull up a list of available printers to deliver a print job to the correct printer on any subnet inside the firewall. PrintMe Mobile allows users who are on the company or guest network to securely print to printers on any wireless subnet.
PrintMe Mobile enables tablets and mobile devices to transition from entertainment and communication devices into true business productivity tools capable of content creation and PC-like efficiency.  As knowledge workers continue the BYOD trend, reports show that enterprise tablet adoption will grow by almost 50 percent per year. In fact, many employees are using these devices as a replacement for PCs.
However, the corporate world still relies on printed documents, which can be a challenge for businesses. First, not all mobile devices can print. Apple devices have an AirPrint feature, but to enable this capability network printers also have to support AirPrint. In the Android, Blackberry and Windows worlds, printing isn't native to the mobile device. This leads to workarounds that can be inefficient and insecure. While cloud printing may work for consumers, it is not always viable for many businesses that don't want sensitive documents leaving the company firewall. This is where PrintMe Mobile changes the game for mobile printing.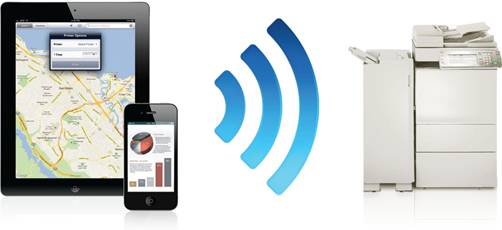 PrintMe Mobile is the only on-premises mobile printing solution that enables enterprises to scale their existing printing infrastructure to support printing from any mobile device for thousands of users across a heterogeneous printer environment with multiple wireless subnets. PrintMe Mobile boasts easy and flexible ways to print – directly through Wi-Fi networks or by sending an email. Users can choose to locally release a print job while at the printer, ensuring sensitive documents never leave the corporate network and are not left unattended. The software is simple to deploy and manage, often installing in as little as 30 minutes.