2017 Mobile Star Awards Entrant:
Educational App for Teens & Adults — Dictionary.com app

2016 Mobile Star Awards Winner:
Educational or Knowledge Reference App — Dictionary.com app
Company Profile:
Dictionary.com
555 12th St., Floor 3
Oakland, CA 94607
Tel: (+1) 510-985-7598
Email: marketing [at] dictionary.com
dictionary.com

Structure:  Public (NASDAQ: IAC), established in 1995
Approx. Employee Count:  35
OS Supported:  Android, iOS (iPhone), Apple watchOS
Dictionary.com's Leading App Features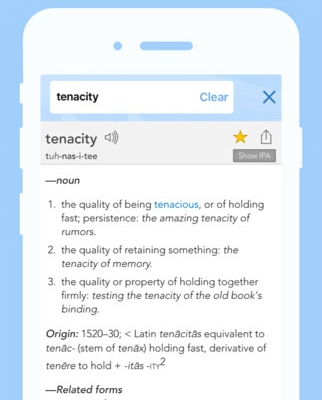 Dictionary.com is the world's first and largest digitally-native dictionary, with more than 70 million monthly users worldwide, over 100 million mobile app downloads, and more than 19 million people who receive its popular Word of the Day.
Recently celebrating its milestone 20th anniversary, the company provides reliable access to millions of English definitions and meanings, spellings, audio pronunciations, example sentences and word origins.
Dictionary.com's apps are the leading English dictionary apps for iOS and Android, offering trusted reference content with more than two million English definitions and synonyms, and is the most comprehensive tool for word discovery – accessible anytime, anywhere.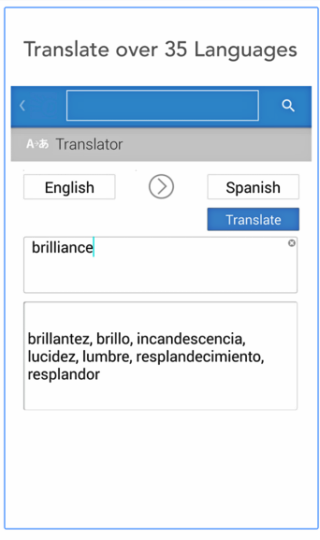 The apps' features include audio pronunciations, voice word search, translations for over 30 languages, word origins, spelling suggestions, and more.
More than a dictionary app
Dictionary.com's vision is to move the digital dictionary away from a simple search to make it a metaphor for something much bigger — a partner in helping people better communicate and master language in all aspects of their lives.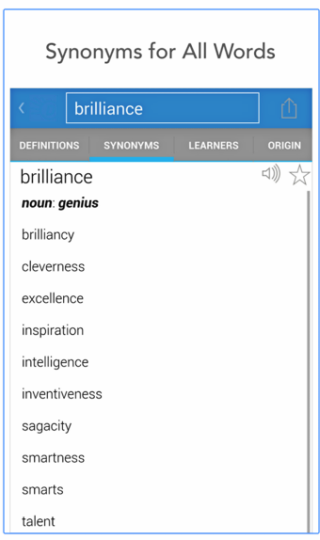 Additional features of Dictionary.com include: slideshows with language facts, editorial posts about language usage in historical and current events as well as advice and insight, quiz widgets to test vocabulary, local lookups (see which words are being searched near you), favorite words and search history, and advanced learner's dictionary (special content for ESL, EFL, and English learners).
The company, which has an ad-supported business model, also offers a paid version of each dictionary app that includes premium features like an encyclopedia, slang dictionary, idioms and phrases, example sentences, and medical, science, and rhyming dictionaries; available for $3.99 in the App Store and $2.99 in Google Play.
Dictionary.com wants to help its users master the art of language to benefit them in all aspects of their lives — whether that means witty cocktail party fodder, the perfectly worded LinkedIn profile, an expertly crafted Yelp review or the most appropriate word for a midterm paper.
The power of the written word has perhaps never been so important as it is today, thanks to the democratization of the web and the rise of self-publishing. Dictionary.com aims to be the go-to partner to help people take full advantage of that power.
* Dictionary.com Android and iPhone dictionary app