2013 Mobile Star Awards Entrant:
Consumer Medical Reference Mobile App – Dental Anywhere
2012 Mobile Star Awards Winner:
Consumer Medical Reference or Utility – Dental Anywhere
Company Summary:
4335 Van Nuys Blvd. #338
Sherman Oaks, CA 91403
(+1) 866-767-4582
info [at] dentalanywhere.com
www.dentalanywhere.com
Company Contacts:
> Tanya Stein, Marketing, tanya [at] dentalanywhere.com
> Mike Stein, Founder, mike [at] dentalanywhere.com

Company Structure: Private Company, established in 2006
Operating Systems Supported:  Android, Apple iOS

Featured Mobile Apps: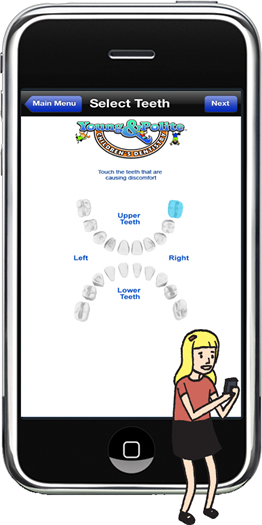 Dental Anywhere™ creates, manages and hosts mobile apps for all dental settings. Our apps are designed to be downloaded by the patients of any dental office or establishment to get superior care conveniently.
The app benefits both patients and the dental practice.
Some Patient Benefits include:
– A dental emergency center with interactive diagram of mouth and  tele-dentistry option. This allows patients to touch the tooth that bothers them, indicated what kind of pain and how much pain they are experiencing. Then they have the option of sending a picture. 
The patient receives immediate advice following their selections to help them during their time of need, while the dentist is concurrently alerted with all the information.
– Pre/post treatment information gives patients the instructions on what they need to do before their appointment, after their appointment, pain management if any and homecare instructions.
– A one-touch appointment request gives patients the option to select the time and day that they want to come in, dental office only needs to confirm the request.
– GPS to office allows patients to get office directions fast without entering in any information or going to a web browser.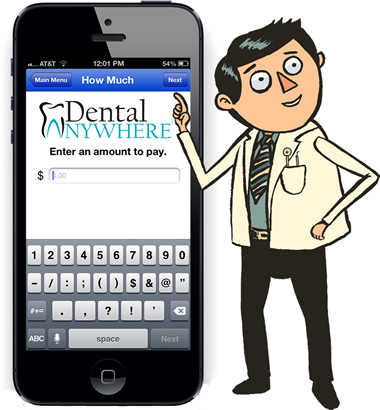 – Bill pay gives patients the option of paying their bill through a secure gateway through the app.
Some Dental Office Benefits include:
– Prescreening dental emergencies to help address problems accurately and schedule appropriately.
– A "greener" office with less printed/paper materials to give out to patients.
– The app acts as digital business card, patients can refer the office effortlessly by using their contact list in the phone. The referred person gets a text with all of the office information, and the dental office is emailed who referred them and who was referred.
– Collections are faster and easier when patients don't have to mail in a payment or go to a web browser to pay online.
– Patients never lose office information cutting down on the amount of phone calls placed for non-productive office inquiries.
– The app helps office online visibility attracting new patients.