This year's Black Friday, Cyber Monday and Cyber Week sales frenzy spurred record-breaking numbers of online and mobile shoppers, according to new reports. And we'll likely see strong online sales continue until at least Christmas–thanks to more retailer promotions and more online shoppers.
For the holiday season to date, US shoppers have spent $29.7 billion online–a 12-percent increase over the same time last year, reports consumer behavior analyst comScore. Cyber Monday desktop sales topped $2.67 billion–up 17% from last year and the biggest online spending day in history.
This year's Cyber Monday (the Monday after the US Thanksgiving holiday weekend) is only the second day ever to surpass $2 billion in desktop sales. The other such day was Cyber Monday 2015.
The long Thanksgiving weekend marked the second straight year in which both Saturday and Sunday individually had billion-dollar online shopping days, combining for nearly $2.5 billion for a year-over-year increase of 15%, says comScore. For the five-day period from Thanksgiving through Cyber Monday, online buying from desktop computers totaled $8.41 billion, up 17% versus last year.
Cyber Week sales spurred by mobile
On Cyber Monday of 2016, the number of both shoppers and purchasers were up 11% compared to a year ago. That's according to retail marketer Hooklogic, who tracks more than 91 billion searches a year for major retailers like Walmart, Target, Tesco, Best Buy, Macy's, and Toys 'R Us.
And by comScore's count, 130 million Americans–half of the the US digital population–shopped online on Cyber Monday using a desktop computer, smartphone or tablet. Amazon once again ranked as the most visited online retailer on Cyber Monday, followed by eBay, Walmart, Kohl's and Target.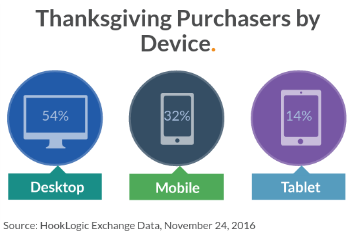 On Cyber Monday a whopping 89 million people shopped on mobile devices, 78 million people shopped via desktop, and 37 million on both, comScore reports.
HookLogic offers similar Cyber Monday stats: 43% of us shopped on our mobile phones, 11% on tablets, and 46% on desktop computers.
Perhaps due to much-improved mobile shopping experiences, the number of us who actually made Cyber Monday purchases ("conversions") on mobile phones rose 14.8% year over year, says HookLogic. But on the downside, it says conversions on desktops and tablets dropped to 15.7% and 15.1%, respectively–so the jury is out on whether or not rising mobile Cyber Week sales will be enough to cover those other losses.
The hour when more of us shopped online than any other time in history? That was between 8 and 9pm US Eastern Time (EST) on Cyber Monday, HookLogic reports. The company suspects that's because consumers had "window shopped" a lot in the previous weeks or days, and then jumped to take advantage of Cyber Monday or Cyber Week shopping deals.
Not surprisingly, consumer electronics and computers rank the second and third most popular shopping categories in Cyber Week sales, reports comScore. But we all need to wear clothes, so apparel and accessories still rank as the top product category by sales volume.
Black Friday weekend shopping rises, too
Thanksgiving and Black Friday saw even bigger increases in online and mobile shopping, according to HookLogic. A likely motivator is American consumers' increasing comfort and trust in shopping online–and that means there's less pressure to drive to stores for good deals. It also helped that many retailers started baiting shoppers with "pre Black Friday" deals earlier in November.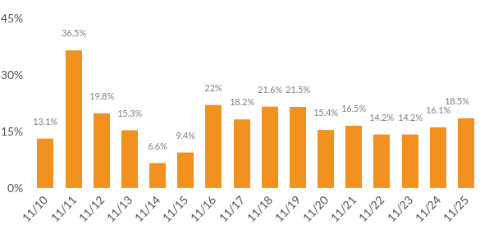 With more Black Friday sales starting on Thanksgiving (Thursday), it's not surprising that the number of Thanksgiving Day shoppers rose 16.1% and purchase conversions were up 9.8% year over year. Similar to Cyber Monday, the 9 pm hour (EST) was the mobile peak shopping hour on Thanksgiving Day. Thanksgiving saw the highest cart sizes (3.2) and the highest cart values: $160.20, with an average unit price of $50.77.
The number of Black Friday shoppers and purchasers rose even more–up 18.5% and 15.2% respectively, compared to 2015, reports HookLogic. And mobile shoppers even matched their desktop-based peers with an average of 3.1 items in their shopping cart. However, mobile shoppers were a little more frugal; the average mobile cart value was $125, compared to $152 for desktop shoppers.
Holiday shopping starts even earlier
Interestingly, the biggest year over year increase in US desktop and mobile shoppers (unique users across ecommerce sites) was not on Thanksgiving, Black Friday, or Cyber Monday. It was Friday, November 11th, which in the US is Veteran's Day and an increasingly popular shopping day. That day saw a whopping 36.5% increase in online shoppers.
In the UK, the biggest increase in November was Friday the 18th, which was not a holiday but saw 32.8% more shoppers than the same day last year.
As a performance marketing company for brands, Hooklogic also has the scoop on CRM, sales attribution, and search or traffic data down to individual products across all of their retailer network. The New York based company was just acquired by Criteo (NDSQ: CRTO) on November 9th of this year. You can check out their latest holiday shopping infographics and more right here.
Reston, Virginia based comScore, Inc. (NASDAQ: SCOR) completed its merger with Rentrak Corporation in January 2016. The company measures and reports on audiences, brands and consumer behavior across media and technology platforms.
#end Cyber Week sales mobile statistics report