Citrix ShareFile is a secure cloud collaboration platform and file sharing app suite that enables access to files stored across multiple repositories so users and clients can work efficiently from anywhere. Supports hybrid architectures — IT can choose to store their data on-premises, in the public cloud, or a combination of both.
ShareFile's access methods include native mobile apps for iOS, Android and Windows, as well as desktop tools and sync clients for Windows and MacOS. ShareFile also offers native email integrations in Microsoft Outlook and Gmail, and users can access files through several Office 365 integrations, including from native Microsoft Office apps and Microsoft Teams. With other integrations, such as ShareFile for Intune and ShareFile for MobileIron, sharing options and methods can be whitelisted/blacklisted.
Document workflows for efficient cloud collaboration: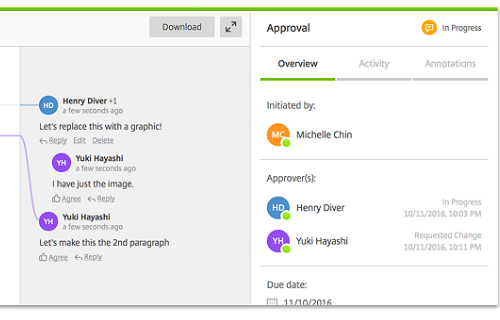 ShareFile's simple, customized, intuitive user interface integrates document workflows and empowers teams to increase productivity. Built-in co-authoring, feedback, and approval processes give colleagues a convenient hub to collectively create, review, modify, annotate, track document changes, and get legally binding signatures in real-time.
Custom workflows benefits include:
— You can mobilize and automate document-centric business processes without writing code.
— ShareFile's Workflows mobile app collects structured data in the form of text, images, video, barcode, signatures etc.
— Form submissions can then trigger workflows with multiple actions such as e-mail notifications and approvals.
— ShareFile provides an overview and details of in-progress or completed workflows.
ShareFile is tightly integrated with Microsoft, and you can add ShareFile as a "place" in the Microsoft suite of applications. You can open, edit and save documents stored in ShareFile, and enable web-based co-authoring via Office 365. ShareFile mobile apps include built-in editing tools for Word, Excel, PowerPoint and PDF annotation.
.


Tight Security for file sharing & cloud collaboration:
For Customer Managed StorageZones where data is stored on premises through CIFS support and the ShareFile StorageZone Controller, customers can provide encryption keys to leverage Microsoft crypto libraries. Will work in FIPS mode to enable FIPS 140-2 encryption. For metadata encryption, customers can leverage Restricted StorageZones to encrypt file metadata that is stored on the ShareFile control plane. For Citrix Managed StorageZones where data is stored in various cloud availability zones, customers can leverage Amazon KMS and manage their own keys including key rotation use cases. All encryption is performed at the file level.

Multilayer Security: Granular controls protect encrypted data at rest (with AES), in transit (with SSL), and during access and use.

Enterprise Key Management (EKM): Company-owned encryption keys allow organizations to safeguard data within private on-premises and cloud repositories.

Information Rights Management (IRM): The authentication process follows the file itself, ensuring secure access to sensitive content only by intended recipients.

Data Loss Prevention (DLP): helps organizations enforce regulated industry requirements, company governance policies, and security parameters for audit reporting and compliance.
.


Additional ShareFile features:
Mobility without Migration: ShareFile enables mobile productivity with read-write access to data, allows secure file sharing with anyone, and file syncing across all of their devices.

Check-in/check-out for ShareFile and SharePoint data repositories.

Mobile app apply tags when uploading files to SharePoint document libraries where metadata services are enabled.

ShareFile tightly integrates with other Citrix technologies for desktop virtualization, mobile application management (MAM), mobile device management (MDM),  and enterprise mobility management (EMM).

Optimized for Virtualization: ShareFile is the only EFSS solution that is optimized for the unique storage and performance requirements of virtualized environments.
For more on ShareFile's cloud collaboration and file sharing features plus industry uses, visit sharefile.com.
ShareFile is a "Best of 2017" winner in MobileVillage's 16th Annual Mobile Star Awards:
"Best of 2017" Mobile Star Awards Sponsor & Winner:

Mobile Devices & Apps Management — XenMobile
Mobile Team Collaboration — ShareFile

2016 Mobile Star Awards Sponsor & Winner:
[Consumer] Remote Desktop App — ShareConnect
Mobile Data Capture & Forms — Secure Forms
Mobile Devices & Apps Management — XenMobile
Mobile Enterprise Enhanced Email  — Secure Mail
Mobile Remote Desktop Access  — XenDesktop
Mobile Team Workspace  — Citrix Workspace Suite
Company Profile:

Citrix
851 Cypress Creek Road
Fort Lauderdale, FL 33309
(+1) 954 267 3000
Contact online: citrix.com/contact.html
Citrix.com

Structure:  Public Company (CTXS), established in 1989
OS Supported:  Android, Apple iOS, Apple Mac, BlackBerry, Windows Phone, Windows
Recent Citrix Mobile News:
Citrix Named a Leader in the IDC MarketScape for Enterprise Mobility Management
Citrix and Google Align to Help Businesses Fully Embrace Secure Cloud Transformation
Citrix Unveils Innovations at Citrix Synergy to Power the Future of Work
Citrix Collaborates with Samsung to Deliver Desktop Experience on Samsung Galaxy S8
End Citrix ShareFile cloud collaboration & file sharing profile