Citrix Enterprise Mobility Management offerings: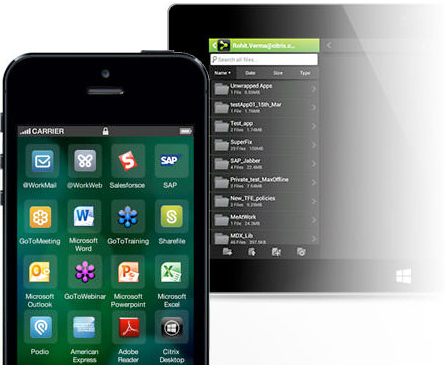 Citrix Workspace Suite (pictured) delivers secure access to apps, desktops, data and services optimized to meet the performance, security and mobility requirements of individuals. This complete, powerful solution can deliver secure access to personalized desktops, mobile, web and Windows apps, and corporate data, as well as provide device configuration management. The result is a high performance user experience delivered from any device, including tablets, smartphones, PCs, Macs or thin clients, over any network or cloud to empower mobile workers with the freedom and flexibility to choose how they work. Learn more here.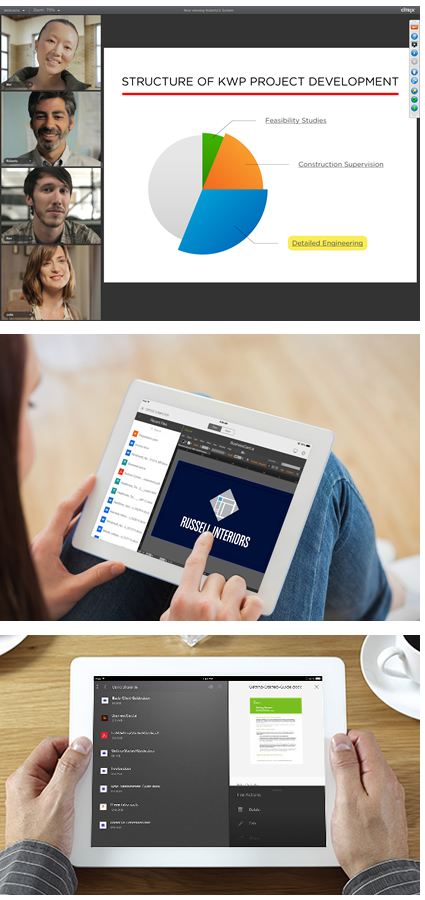 XenMobile Enterprise Mobility Management Solutions provide industry leading security and controls for devices, applications and data.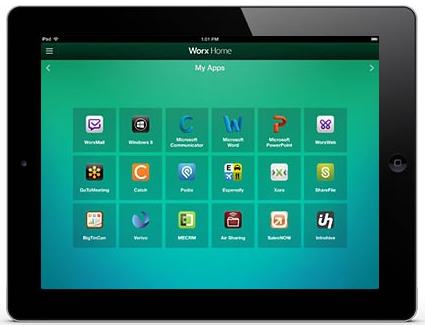 XenMobile supports all layers of the EMM technical stack including mobile device management (MDM), mobile application management (MAM), enterprise file sync/share (EFSS), productivity apps and secure mobile gateway.  By owning products for all layers of the EMM stack, Citrix is able to easily build integrations between the layers delivering a superior experience for both end-users and IT.
One-Stop Enterprise Mobility Management
Making XenMobile unique among other Enterprise Mobility Management vendors is our home grown family of productivity apps which include WorxWeb, WorxNotes, WorxTasks, Secure Mail, Secure Forms, ShareFile, QuickEdit, Scan Direct and ShareConnect.  All of these applications have been built to work together as a single system allowing users to be more productive and accomplish mobile tasks with fewer steps.
Every one of the XenMobile Worx apps delivers ultimate security through a containerized experience and a dedicated micro-VPN connection for each app.  Business data is secure because there is no intermingling of application data on the device.
Worx apps are developed to provide desktop-like, business-class features to the mobile device.  Here are a few examples:
Secure Mail allows mobile users the ability to not only create meetings from their mobile device but also allows them to check a colleague's free/busy schedule before selecting a meeting time.  With Secure Mail, users can also set and edit their Out-of-Office replies, assign VIPs and ringtones, join web conferences with no passcode one-touch access and locate all of their attachments with the Secure Mail attachment repository.  Secure Mail securely delivers these and many other desktop-like email features enabling the mobile user to be just as productive on the go as they are from the office.
Another differentiator for XenMobile is the ability to offer MAM-only deployment options which eliminate the need for an MDM agent to reside on the user's device.  This new, less intrusive way of delivering mobile application data security is particularly appealing to BYOD users who don't feel comfortable with IT managing their personal device.
Secure Forms is the newest edition to the Worx family of apps.  Secure Forms allows non-technical line of business workers the ability to easily create and publish their own mobile apps and applets then use those apps to replace current hard copy workflows with paperless digital workflows.
Citrix XenDesktop offers a comprehensive secure app and desktop delivery combined in a single, easy-to-deploy platform. XenDesktop includes XenApp, an application virtualization solution provides secure access to virtual apps, desktops, and data from any device, plus the most scalable, advanced VDI solution available to give employees the freedom to work from anywhere while cutting IT costs. With XenDesktop, IT can deliver Windows, Linux, web, and SaaS applications or full virtual desktops to workers on any device, anywhere, from any cloud, hybrid or on-premises IT infrastructure.
Citrix Workspace Suite, XenDesktop, XenMobile, Worx apps, and Secure Forms are enabling customers to truly transform their business with innovative new technology. For more information, please visit: citrix.com/products.html.
2017 Mobile Star Awards Sponsor & Finalist Nominee:

Mobile Devices & App Management — XenMobile
Mobile Team Collaboration — ShareFile (2014-15 winner)

2016 Mobile Star Awards Sponsor & Winner:
[Consumer] Remote Desktop App — ShareConnect
Mobile Data Capture & Forms — Secure Forms
Mobile Devices & App Management — XenMobile
Mobile Enterprise Enhanced Email  — Secure Mail
Mobile Remote Desktop Access  — XenDesktop
Mobile Team Workspace  — Citrix Workspace Suite
Profile:

Citrix
851 Cypress Creek Road
Fort Lauderdale, FL 33309
(+1) 954 267 3000
citrix.com/contact.html
citrix.com

Structure:  Public Company (CTXS), established in 1989
OS Supported:  Android, Apple iOS, Apple Mac, BlackBerry, Windows Phone, Windows
Recent Citrix Mobile News & Blog Posts:
Citrix and Google Align to Help Businesses Fully Embrace Secure Cloud Transformation
Citrix Unveils Innovations at Citrix Synergy to Power the Future of Work
Citrix Collaborates with Samsung to Deliver Desktop Experience on Samsung Galaxy S8
Citrix Demonstrates Technology Innovations at Mobile World Congress 2017