At January's annual Consumer Electronics Show (CES), you can always expect thousands of innovative or odd gadgets and apps, but only about a dozen make it into the web's "Best of CES 2018" roundups. Although this year many of the biggest innovations were in robotics, home devices and car tech, there were still plenty of great mobile products. Here we look back at the top picks from CNet, Engadget, The Verge, Digital Trends and Android Authority in their CES 2018 best phones, wearables, smart displays and laptops roundups.
If CES 2018 didn't make history for mind-blowing gadgets, it did make headlines in other ways due to a huge, transformer-blowing power outage on the show's second day. No–the cause of the blackout wasn't a conspiracy of flashlight vendors, but rather water condensation from the previous day's major rainstorm. Fortunately, the outage happened just before lunchtime and was fixed by 1 pm.
CES 2018 best new phones tech
It doesn't make phones, but Synaptics stole the hearts (and fingerprints) of phone reviewers for its under-display fingerprint reader, which was demoed on a Chinese Vivo phone and is coming soon to many other brands. Unlike current sensors that require a dedicated space, Synaptics' optical fingerprint reader is embedded under a phone's OLED display and reads your fingerprint through the miniscule spaces between the OLED dots. Synaptics' under-display fingerprint reader is already in mass production, so if you plan to buy a high-end OLED display phone later this year, you may be one of the first people to use it. Digital Trends has a short demo video.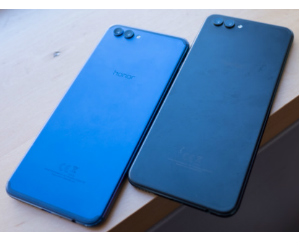 With a 6-inch Full HD+ display, Huawei's powerful Kirin 970 processor, 6 GB of RAM, and dual 12 and 20 MP cameras, the Honor View 10 has some great specs. The View 10 is already available in India, the UK, Spain, France, Germany and Italy, and it's coming to Russia and Malaysia later in January. The Honor View 10 is also slated for a US release and will likely sell for about $500. Android Authority got a quick hands-on with View 10 and was impressed, calling it "OnePlus 5t's biggest competitor" so far this year.
CES 2018 best accessories
If you'd like to take smoother phone videos, DJI's Osmo Mobile phone stabilizer (pictured top of this story) might help you out. The new Osmo Mobile 2 adds mounting support for portrait mode, delivers nearly four times the battery life, and best of all is just $129–far less than the original's $299 price. Apple has first dibs on pre-orders starting January 23, but the Osmo Mobile 2 phone stabilizer supports most popular smartphones and will be widely available sometime in February. Update: Android Authority just posted a full review.
Samsung's S-Ray is a prototype portable speaker that lets you to listen to your phone, tablet, or other devices without disturbing others by siphoning the sound straight to your ears. Samsung hopes its honed ultrasonic modulation technology will find its way into all kinds of accessories like phone covers, Bluetooth speakers and wearables. CNet tried out the prototype and found the sound quality lacking, but was still impressed to hear music without headphones over the noise of CES.
If you have a MacBook Pro but dislike charging cords and power bricks, InCase's $200 IconConnected charging case (and phone charger) might be just your ticket. InCase's laptop charging case won't be available until the fall of 2018, but maybe by then the company will offer cases for other laptops, too.
CES 2018 best wearables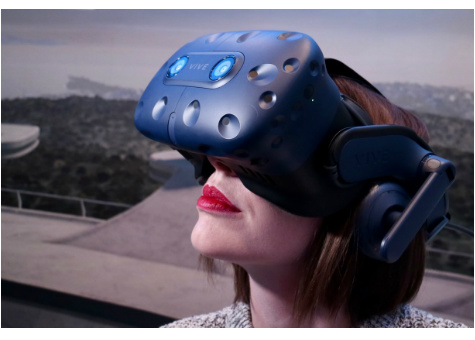 As wearables become more popular, virtual reality (VR) and wearable sensors are taking over CES. HTC's Vive Pro VR headset is a solid upgrade to its Vive — adding 3D audio, a more comfortable head strap, two mics, dual front-facing cameras and a higher resolution of 2,880 x 1,600 — that's 615 pixels per inch vs 448 ppi on the previous Vive. Pricing will be announced this summer.
Lenovo is also now in the VR game with its Lenovo Mirage Solo VR headset, which like many new VR headsets, works without a smartphone. The Mirage Solo runs on a Snapdragon 835 processor and has 4 GB of RAM, microSD expansion, a Google Daydream controller, and seven hours of battery life. The Mirage Solo places more of its weight on your forehead, so Android Authority says it "feels more comfortable" than most smaller VR headsets. Lenovo says its Mirage Solo will cost under $400, and will be available within a few months.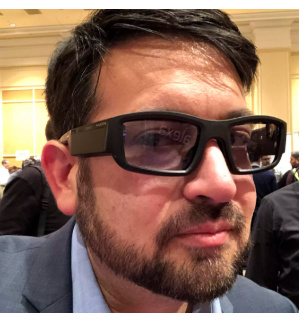 Google Glass goggles are gone, so Amazon is now playing its smart glasses cards. You can use Amazon's Alexa virtual assistant to control the new Vuzix Blade smart glasses, which pack a microphone, camera, side-mounted touchpad, tiny display on one side (like Google Glass), and Bluetooth to access phone apps or take calls.
The Vuzix Blade smart glasses will sell for $1,000 when they're released sometime this year. Not cheap, but with Alexa and Google Assistant coming to a lot more wearables and even smart mirrors, we expect smart glasses to eventually drop in price.
CES 2018 best smart displays
Remember the Amazon Echo Show announced last fall, which is basically an Echo with a display? Well, now Google and Facebook are getting in on the game with upcoming smart displays — a term coined by Google. Like the Echo Show, smart displays are smart speakers with a screen that provides relevant information.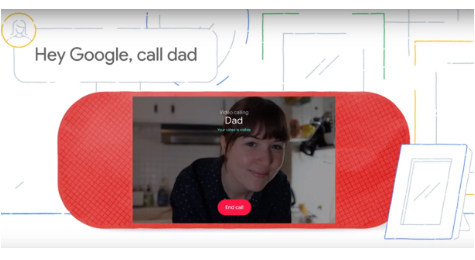 For example, Google's smart displays from JBL, Lenovo, LG and Sony will launch Google Maps when you ask for directions and let you send the directions to your phone. These Android Things powered smart displays will also allow you to make video calls via Google Duo, watch videos on YouTube, and check out the images stored in Google Photos. Several of these products were demoed at CES, and are slated to hit stores this year.
Facebook Portal is another upcoming smart display with a camera that can match different users' faces with their Facebook accounts. Facebook Portal will let you video chat just as you can in Messenger, stream Spotify and Netflix, and possibly use AR apps. You can expect to see Facebook Portal officially unveiled at Facebook's developer conference in early May, and the device is expected to go on sale for $499 in the second half of 2018, but that price may quickly drop to compete with the $230 Amazon Echo Show and competitively priced Google smart displays. CEO Mark Zuckerberg said he doesn't care if the device is profitable — instead, his focus is on encouraging phone-like usage.
Meanwhile, Apple Homepod pre-orders finally start this week after Apple delayed the launch of its non-video assistant announced last year. So if Apple plans to also compete in the smart display space, it will have some catching up to do. On the other hand, a new Apple smart display could cannibalize iPad sales, since we can already prop up our iPads as a makeshift smart display.
CES 2018 best laptops & tablet hybrids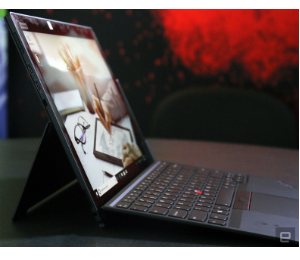 The Lenovo Miix 630 took the top spot in Engadget's Best of CES in its mobile devices category. The Miix 630 is one of a new breed of 2-in-1 or laptop tablet hybrids that has Qualcomm's Snapdragon 835 smartphone processor, which means it's quick to wake and lasts up to 20 hours on one charge. In the Best Laptop category, Lenovo also killed it with its  ThinkPad X1 Carbon (pictured) which boasts a Dolby Vision HDR display, privacy shutter, embedded eSIM, twin far-field mics and Alexa support, among other nice features.
For its CES 2018 best laptops, The Verge picked HP's Spectre x360 15 and Dell's XPS 15 laptop-tablet two-in-ones. Both of these new models include Intel's new AMD chips, which combine Intel's latest core processors with AMD's Radeon RX Vega M graphics for more graphical power. Aside from the Intel AMD chipsets, HP's updated Spectre x360 is similar to last year's model and will start at $1,370 when it goes on sale in March. On the other hand, Dell's XPS 15 hybrid now includes a maglev keyboard, which uses magnets to keep the keys in place. The new XPS 15 will available sometime this spring starting at $1,300.
Digital Trends (DT) also loved the updated Dell XPS 13 laptop enough to include it in its Best of CES list. For the first time in its three years, the new XPS 13 has been fully redesigned. It's now just .46 inches thick, down from .6 inches, with even thinner screen bezels around a crisp 1080p display upgradeable to 4K (3,200 x 1,800). Other top-of-line specs include Intel 8th-gen quad-core processors, up to 16GB of memory, and up to 1TB of PCI Express solid-state drive (SSD) storage. Battery life is a bit less than last year's model but was still about 19 hours in DT's testing. The new XPS 13 is available now starting at $1,000.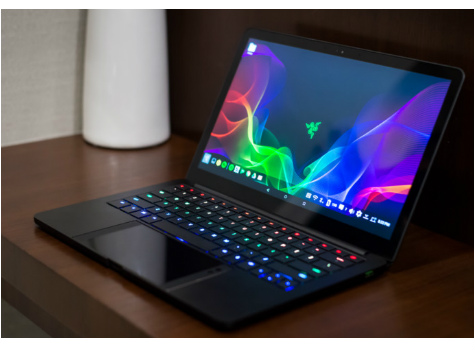 Though it's still just a prototype, Razer's "Project Linda" laptop got lots of attention for its built-in phone dock. A modified Razer Blade Stealth laptop, the 13.3-inch Razer Linda has an empty trackpad slot where you insert Razer's Android phone. Once inserted, your phone becomes the trackpad, and you can view and work with all of your Android apps on the laptop. Linda charges your Razer while it's docked, and the laptop offers an extra 200 GB of storage. While previous phone-to-laptop "lapdock" products have flopped due to cheap quality and their need for connecting cables, the Razer Linda laptop proven itself a hit in review demos, so it may sell well if it comes to market.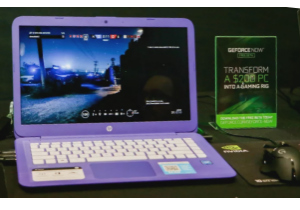 Finally if you're a gamer but too poor to buy a $1,000+ gaming laptop, you can now play high-end games on any laptop — even a $200 model — thanks to new game streaming services from Nvida and Blade. The Blade Shadow service has been available in some countries for a while now and will cost at least $35 per month when it launches February 15 in the US. If that's a lot to swallow, you can sign up for Nvidia's free trial of its GeForce Now game streaming service, for which pricing hasn't been announced. You'll need a good internet connection though: Nvidia recommends at least 25Mbps and ideally 50Mbps, but Blade says its game streaming service can run smoothly on 15Mbps, thanks to encoding, decoding and network technologies.
Bonus: CES 2018 best TVs
At CES, LG literally rolled out its yet-unnamed rollup TV, which has a 65-inch, 4K OLED display that TV slowly rolls in and out of an equally long box. That means you can place your rollup TV in spots where you wouldn't normally put a TV, like in front of a window or at the foot of your bed. (But since you shouldn't watch TV in bed anyway, a giant TV just a few feet from your pillow is probably not the best idea.) LG hasn't announced pricing or availability for its rollup TV.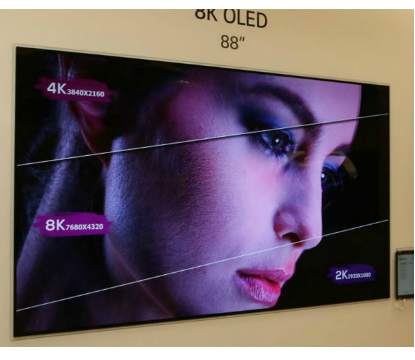 Now that you can get a 4K TV for a few hundred, your next upgrade could be an 8K TV from LG or Samsung. An 8K TV boasts a resolution four times greater than 4K and and 16 times more than HD. But to enjoy all of those pixels you'll need a big display–Samsung's Q9S measures 85 inches and LG's 8K TV is 88. Although there's no 8K TV content to watch yet, Samsung's Q9S includes artificial intelligence that can supposedly display any current content in 8K. Neither company has announced pricing or availability.
Samsung blew even more minds without blowing fuses with The Wall, its giant bezel-less modular TV that measures a whopping 146 inches. The idea for The Wall is to let you use as many modules as you want to create a custom-sized giant TV for high-dollar home theaters or commercial installations. Although for now The Wall TV is just a cool prototype, Samsung promises more details at an official launch sometime this spring.
More CES 2018 best new products…
You can see the full CES 2018 best phone, laptop and other new product roundups here on CNet, Engadget, The Verge, Digital Trends, and Android Authority.