Here's how a prebuilt, customized mobile financing app suite helped Volvo Financial Services speed up vehicle financing from days to just hours — all while connecting to legacy systems.
Truck financing is a very competitive climate whether the finance is for one truck, a few trucks, or a fleet of 100. If a customer has a need for financing, they want to know as soon as possible how much can be lent and how fast the credit can be approved. The ability to respond to the end customer with an accurate calculation and turn it around very quickly is of critical importance.
On top of that, complex quoting processes are embedded in a variety of systems that the automotive financial services provider uses across the Americas, EMEA and APAC to enhance customer experience. Certain markets, such as China, India or Brazil, have specific financing processes that are tailored to create a competitive advantage for those markets.
Mobile 'Zapps' save Volvo money
When Volvo Financial Services (VFS), who provides a full range of financial services in 45 countries across EMEA, APAC and the Americas, needed to simplify and speed up the customer booking process to enable its sales team and managers to keep the process going while they are on the road, they turned to Capriza.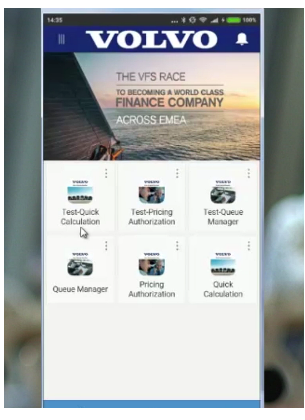 By replacing legacy systems that were 12-15 years old, Capriza was able to provide VFS with a mobile IT solution that could leverage all the processes from the existing systems, localize in multiple languages, and create a seamless user experience worldwide, regardless of the back-end system.
VFS selected Capriza's mobile app platform for its ability to work across all systems, ease of use, and best practices knowledge for creating effective mobile Zapps – bite-sized, mobile apps built around a quick one-minute workflow that help speed up business processes from existing applications. Instead of getting rid of their complex business processes, the IT team was able to continue leveraging their legacy systems and turn them into one-minute mobile experiences that all workforce members could access anytime and anywhere.
VFS financing app rollouts & results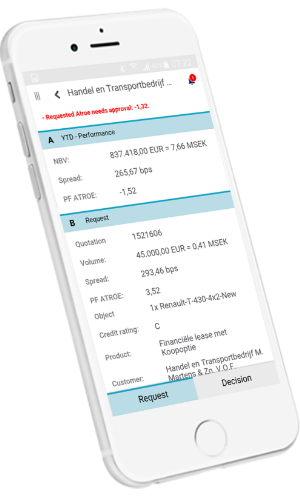 The VFS IT team launched their first financing app suite in EMEA beginning with four Zapps: the first two allow the user to simulate price calculations with accurate interest rates, and other is utilized for price authorization, allowing the commercial team to instantly approve on the go. The additional Zapps include a queue manager for viewing pipeline deals, and a deal-lost Zapp to easily review deal losses.
These Zapps provided the business impact the automotive financial services provider was looking for almost immediately, with a 60% increase in the speed to market, or processing of financing quotes. With Capriza's Zapps, authorized quotes are now complete within hours, instead of days.
The IT team that works on the backend applications were able to learn and use Capriza very quickly, and with ease. VFS has seen such an impressive return on investment that it has since rolled out the same four Zapps in parts of APAC, and is now customizing them for implementation in American regions. The project began December 2015 and the mobile micro apps for the quote calculations went live between March and July of 2016. The mobile financing app suite is still in use by VFS today.
Learn more about the advantages of Capriza's app development platform, and how it helps global parts reseller Titan Machinery.
2017 Mobile Star Awards Sponsor & Finalist Nominee:
Success Story: Mobile App Development — Volvo Financial Services
Mobile App Development for Enterprises — Capriza platform
Mobile Field Service — Capriza platform
end Capriza Zapps Volvo Financial financing app suite success story