Capriza is a mobile app development platform that allows organizations to mobilize workflows from any legacy enterprise application, without needing any APIs, new infrastructure or coding. Over one million users in over 100 countries currently use the Capriza platform for enterprise mobility.
The Capriza mobile app development platform allows anyone from a business user to an IT admin to quickly and cost-effectively create their own apps. This fills a growing industry-wide need that stems from the high demand for mobile enterprise apps, compounded on top of the fact that many IT departments' lack of expertise in mobile app development or design. Capriza lets 'citizen developers' build, style, and publish micro apps that deliver high business value.
How Capriza's mobile app development platform stands out: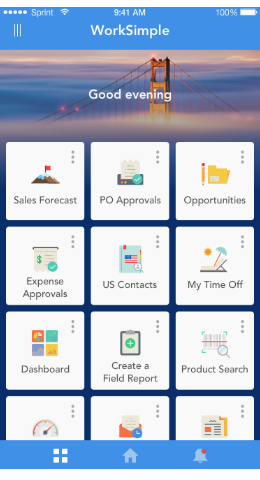 Businesses can take advantage of the Capriza Designer tool and create their own mobile apps, called 'Zapps' from existing business applications, or deploy Universal Micro Apps, which add an additional layer of value for businesses. These pre-built apps simplify, mobilize, and accelerate approval processes so that employees can purchase goods or services to keep the business running, or invoice customers faster to accelerate time-to-cash. For instance, these apps include the most common processes and approvals, such as POs, invoices, requisitions, etc.
There are several key advantages of Capriza's mobile app development platform:
No APIs, no infrastructure changes, no coding: Capriza can simplify and mobilize any HTML-based system, even SaaS and custom-built ones, without the need to recreate APIs. This means no risk to systems and no lengthy process of trying to recreate them.
Fast time-to-value: Many companies who start their mobility and modernization journey realize that the mobile development lifecycle costs millions and it can take up to 12 months to deliver a single app. With Capriza's patented codeless cloud based mobile app development platform, apps can be created and distributed in a week.
No mobile developers needed: Capriza's platform is so easy to use that it eliminates the time and expense of using specialized developers and UX designers. Instead your company's homegrown "citizen developers" can lead the creation of micro apps.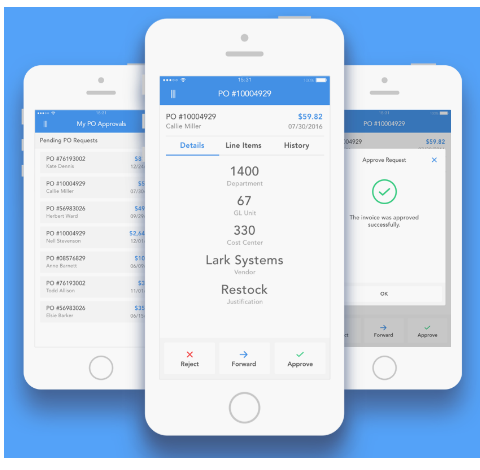 User personalization: Users get access only to the apps needed for their roles. This personalized approach is what makes the WorkSimple mobile application platform and the Zapps contained within tailored to individual users.
One reference architecture, one uniform security: Capriza leverages one reference architecture and one uniform security approach for the entire stack and it scales for any HTML-based application.  This ensures that all your mobile Zapps are predictable, repeatable and scalable.
Automatically inherit the application's logic: Rather than spending resource-intensive cycles designing or customizing mobile apps, the Capriza Platform guarantees the existing application's custom processes, business logic, and data is transferred to the new mobile app.
Capriza helps organizations across a variety of line functions, including field services, supply chain, sales, finance and human resources. Industries already taking advantage of Capriza's platform for digital transformation projects include transportation, telecom, agriculture, industrial manufacturing, utilities, construction, insurance, real estate, mining, airlines, consumer packaged goods and medical equipment.
Capriza mobile field service apps:
Capriza's mobile app development platform offers field service teams an easy-to-use, cost-effective way to create mobile field service apps from existing business applications. Capriza enables organizations to deliver critical mobile field service tasks such as technician work orders, delivery confirmation, safety checks, and more. Organizations can deliver simple, personal, and smart one-minute workflows for employees and partners, and can extend the reach and life of their applications to their field personnel — quickly and without any coding.
The Capriza platform can be used to create mobile field service apps for a variety of use cases, including work order management, field data entry and collection, access to support documentation, service work order, remote ordering, incident reporting, inventory lookup and tracking, employee lookup, time reporting and management approvals. By using Capriza to mobile-enable these teams, organizations can increase service levels, accelerate time to cash, reduce costs, ensure better utilization and improve customer satisfaction.
Here are the top field service use cases that Capriza can mobile-enable:
Work Order Management:

Capriza allows organizations to maximize the effectiveness of field teams by providing them with up-to-date information on work orders, SLAs and line items to maximize their effectiveness. By mobile-enabling work orders, ticket creation and field inspections – mobile workers can boost productivity and improve accuracy by digitizing processes.

Inventory and Parts Management:

Ensures higher first-time fix rates and speed up time-to-resolution by providing field workers with real-time access to parts and materials inventory and ordering capabilities straight from the field. Keep equipment inventory up-to-date to mitigate excess ordering.

Customer Management:

Ensure field technicians provide the right level of service while optimizing incremental revenue opportunities.

Safety and Compliance:

Digitize paper forms and utilize notifications for routine safety checks and other compliance-related reporting such as incidents and hazardous materials.

Administration:

Keep projects moving in the field by mobilizing administrative tasks such as approvals for purchase orders and purchase requisitions, as well as expenses, timesheets and more.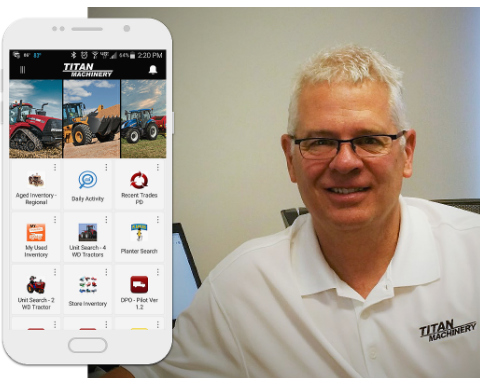 Titan Machinery, which owns and operates a network of agriculture and construction equipment dealerships with over 2,500 employees and nearly 120 sites in the US and Europe, uses the Capriza platform to build micro apps for its field technicians. Titan built a Parts Locator app to allow field technicians to quickly determine whether needed parts for repairs are available and at what store they are located.
Titan also built a Tech Timeclock app, which mobilized the time capture process in Oracle JD Edwards so that each technician could easily enter project time in real-time. This eliminated the need for admins to enter data into JD Edwards, ensuring more accurate invoicing for service work.
See how Volvo Financial Services uses Capriza's mobile app development platform to authorize loan quotes in hours instead of days.
2017 Mobile Star Awards Sponsor & Finalist Nominee:
Success Story: Mobile App Development — Volvo Financial Services
Mobile App Development for Enterprises — Capriza platform
Mobile Field Service — Capriza platform
Company Profile:

Capriza
400 Hamilton Ave., #130
Palo Alto, CA 94301
Tel: 1-650-600-3661
support [at] capriza.com
Capriza.com

Facebook:  /CaprizApps
LinkedIn:  /Capriza
Twitter:  @Capriza
YouTube:  /CaprizaTeam
Structure:  Private company, founded in 2011
OS Supported:  Android, Apple iOS, Apple watchOS
Recent Capriza News:
Capriza Introduces New Free Trial For Citizen Developers
Capriza Unveils Global Partner Program
Capriza Passes One Million Global Users On Market-Leading Enterprise Mobility Platform
Major UK Mortgage & Savings Provider Selects Capriza to Drive Mobile Customer Experience
Capriza Achieves Level One PCI Compliance Certification
end Capriza mobile app development platform & field service profile