.
2014 Mobile Star Awards Sponsor & Winner:
>  Enterprise Mobile Field Sales & CRM – Sales Accelerator
2012 & 2013 Mobile Star Awards Winner:
>  Enterprise Mobile Collaboration or Presentation – SlideShark
Company Summary:
Brainshark
130 Turner St., Building 1
Waltham, MA 02453
(+1) 781-370-8000
info [at] brainshark.com
www.brainshark.com
Company Structure:  Private Company, established in 1999
Approximate Number of Employees:  270
Operating Systems Supported:  All Platforms
Featured mobile apps: SlideShark PowerPoint app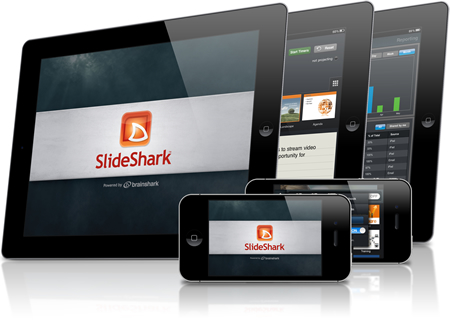 SlideShark is an app from Brainshark, Inc., for viewing, presenting and sharing PowerPoints from the iPad, iPhone and iPod touch. SlideShark can be downloaded for free in Apple's App Store and at slideshark.com.
SlideShark was created to solve a problem facing business users worldwide.  That is, despite PowerPoint being integral to business communications – with 30 million+ decks created daily (per Microsoft) – it wasn't possible to view these presentations properly or reliably on the iPad. For sales reps, conference presenters/attendees, educators, consultants and road warriors across industries, this problem severely hindered their daily routines and limited agility on the road.
Now, with SlideShark, users can view and present PowerPoints on the iPad, iPhone and iPod touch the way they were meant to be seen – with fonts, animations, graphics, hyperlinks and videos intact. The app also serves as a platform for distributing, tracking and managing content in the cloud.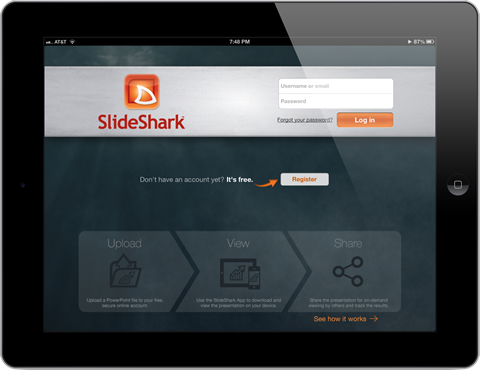 Here's how it works:
UPLOAD.
Users upload a PowerPoint file – from their computer, iOS device or cloud storage account – to their free, secure SlideShark account. SlideShark automatically converts the file into an iOS-optimized format.
VIEW:  Users then use SlideShark to download and view the presentation on their iOS device(s). Navigating presentations is a snap – simply swipe or tap to advance animations and slides.
SHARE & TRACK:  Users can share presentations online for on-demand viewing on any device. SlideShark also provides analytics that show when/how presentations are being viewed.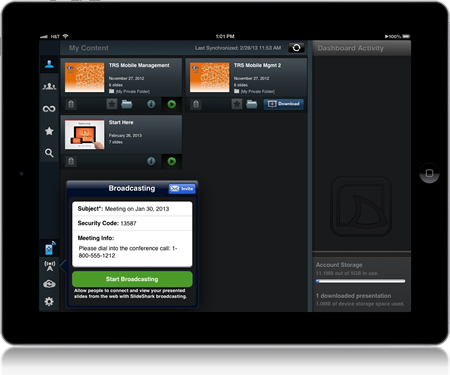 In addition, SlideShark lets users:
—  Broadcast their presentations, live and intact, over the Web – an industry first. Meeting attendees – whether across the table or across the globe – can follow along in real time.  At the broadcast's conclusion, mobile presenters get data on who attended/for how long.
—  Draw on and annotate slides while presenting.
—  Take advantage of integrations with  Box, Dropbox, Google Drive, EMC's Syncplicity, Citrix ShareFile and Microsoft SkyDrive.
—  Project presentations to a TV/screen.
—  Use the iPhone/iPod touch as a remote control and laser pointer on presentations shown from the iPad.
—  Show decks in "Presenter Mode." Users can see their slide notes on the iPad while presenting, while the audience sees only the slide content, projected on a separate screen, in full-screen mode.
—  View/show PowerPoints decks offline.
—  And more.
Since its launch two years ago, the SlideShark PowerPoint app has experienced significant traction. Milestones include:
– 2 million app downloads (2 downloads/min., 24×7!)
– Corporate and individual users in 150+ countries.
– A top "Productivity App" in Apple's App Store.
– In the top 2% of all App Store apps, based on downloads.
– 4.5 stars out of 5 in the App Store, based on thousands of user reviews.
– 25+ industry awards.
– 950+ media mentions.
SlideShark is committed to serving the needs of its user base, and invites ideas and suggestions.  New product releases are issued frequently, with user feedback often helping to drive product development and new features.
The SlideShark PowerPoint app can be downloaded for free in Apple's App Store and at slideshark.com.