.

2014 Mobile Star Awards Winner:
>  Operator or Service Provider Mobile App Payments —
>  Bango Carrier Billing Platform
Company Summary:
Bango
5 Westbrook Centre
Milton Road
Cambridge, CB4 1YG
England, UK
info [at] bango.com
www.bango.com
Company Structure:  Public Company (AIM: BGO), established in 1999
Operating Systems Supported:  All
Company Contacts:
> Richard Leyland, VP Marketing, Richard [at] bango.com
Featured Mobile App Payments Platform: Bango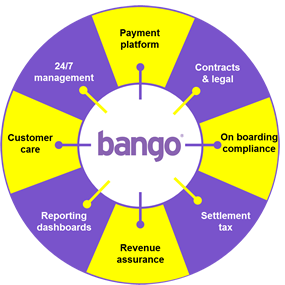 In the era of mobile technology, collecting payments has emerged as a central and complex challenge. Bango powers payment on the mobile web, providing users with a massively smooth payment experience.
Bango's pervasive presence across the web creates a platform effect for partners, identifying hundreds of millions of users and maximizing the number of one-click mobile app payments. Global leaders plugging into Bango include Amazon, Samsung, BlackBerry, Facebook, Firefox Marketplace, Google Play, Windows Phone Store and major mobile brands including CNN and Cartoon Network.