Arccos GPS golf app is a 
2017 Mobile Star Awards Nominee:
Sports League or Games Manager — Arccos 360
Arccos Golf provides a patented, GPS-based hardware and software system that automatically records shots taken by golfers worldwide, giving them valuable insights on their game. Arccos 360 is the second-generation system that features 14 sensors, one for every club in the bag. It automatically records and analyzes every shot hit, combining Live Shot Tracking, GPS 2.0 and Tour Analytics to help users play smarter and shoot lower scores.
In 2017, Arccos partnered with Microsoft. Leveraging Microsoft's powerful Microsoft Azure cloud platform and Azure Machine Learning, Arccos launched the first artificial intelligence-platform for golf called Arccos Caddie, accessible by users of the Arccos 360 GPS golf app.
The first GPS golf app with intelligent analytics
Arccos Caddie harnesses advanced analytics to help golfers of all skill levels make data-driven decisions on the course. The platform leverages its vast data set of over 75 million shots hit by the Arccos community, as well as precise elevation data and over 368 million geotagged data points on more than 40,000 courses.
The Arccos golf app also accounts for weather conditions, including forecasted wind speed, wind direction, precipitation and temperature. The platform can be used by anyone, on nearly any hole in the world, regardless of whether a golfer has previously played the course.
Arccos Caddie provides golfers with information to pinpoint their exact strengths, weaknesses and what club to pick each time. Arccos Caddie digests unique data sets for each player and delivers actionable advice for beginner golfers to pros seeking to make the PGA Tour.
Arccos users improve their handicap 36 times faster than the average golfer, and in 2016, golfers improved by an average of 2.77 strokes; with Arccos Caddie, this trend can reach more dramatic heights.
The Arccos 360 app is a 2017 Mobile Star Awards Nominee and official entrant. You can vote for Arccos here (once only) when voting starts in late September, and follow or connect with Arccos below.
Company Profile: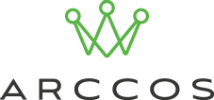 Arccos
700 Canal Street
Stamford, CT 06902
Tel: 1-844-692-7226
starter [at] arccosgolf.com
arccosgolf.com

Facebook:  /arccosgolf
Instagram:  /arccosgolf
LinkedIn:  Arccos Golf
Twitter:  @ArccosGolf
YouTube:  /arccosgolf
Structure:  Private company, established in 2014
No. of Employees:  28
OS Supported:  Android, Apple iOS, Apple WatchOS
Recent Arccos Golf News:
Arccos Premieres Real-Time "Plays Like" Distance Calculations, Other Features
Why Arccos Caddie Is a Gamechanger for Golfers, From Arccos CEO Sal Syed
Golf Digest Takes a Deep-Dive Into How Big Data and Arccos Caddie Are Changing Golf
The Wall Street Journal Takes a Deep Dive Into Why Golfers Overestimate Their Ability
Arccos Users Improve 36x Faster Than the Average Golfer