Apple vs Qualcomm.
They're like a fighting, codependent couple. But instead of hurling insults or even dishes, Apple and Qualcomm are hurling lawsuits. In the US, Apple has sued Qualcomm for $1 billion — and it also filed lawsuits in 11 other countries including China and the UK. Qualcomm has counter-sued, and even seeks to ban iPhone sales in the US and China. These cases could affect how much our phones will cost in the future — here's how.
Why most phone makers pay for Qualcomm technology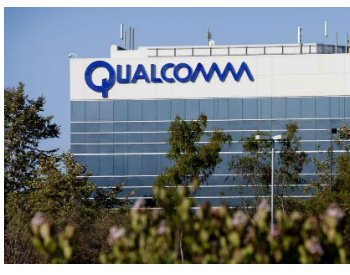 You might be surprised to hear that Qualcomm owns an astounding 130,000 patents for mobile phone technology — including patents for cameras, video compression, surround sound, augmented reality, airplane mode, and most importantly, the wireless modem that allows your phone to connect to cellular networks for web browsing, streaming, and so on. The San Diego based company claims to have invested more than $40 billion in research and development over the past three decades.
This patented Qualcomm technology is licensed as an "all in one bundle" to more than 340 companies, many of them phone manufacturers. However it doesn't charge chipmakers, who can use Qualcomm technology royalty-free. That's become a sore point for some industry regulators and phone makers, who don't want to have to subsidize chip companies.
Qualcomm's "all in one" patent bundle amounts to between 3.5 and 5 percent of a phone's average selling cost, regardless of how high Apple or other phone makers set their phone prices. That means that Apple and other phone makers have to pay more for the same Qualcomm technology in their costlier phones than in cheaper phones. For most phone makers, that's up to $30 or more per phone.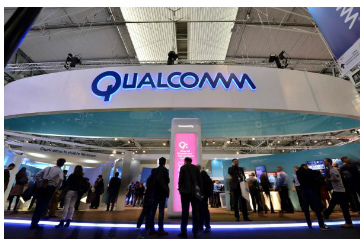 Last year, 59 percent of smartphone modems came from Qualcomm, followed by China's MediaTek at 23 percent, according to Research and Markets. Even Apple — despite its lawsuits — is still using Qualcomm technology for the modems in its Apple Watch 3 and new iPhones. Even if a manufacturer doesn't use Qualcomm modems, it often still must pay the company a fee if its suppliers use Qualcomm technology.
Qualcomm isn't the only company to charge licensing fees based on the total device. Ericsson, Huawei, Nokia, Samsung and ZTE also charge licensing fees, but Apple claims that their fees are far lower.
Apple vs Qualcomm Round 1: Apple sues
As the world's dominant phone maker, Apple for years cut a deal with its manufacturers to lower the Qualcomm licensing fee to about $10 per iPhone. Apple claims it was never able to cut a fair deal with Qualcomm directly. But Apple still paid about $2 billion a year in Qualcomm fees, so this year it finally decided that Qualcomm's pricing rules are unfair. Apple says that the licensing fee should be based on the cost of the Qualcomm chip or other technology used in the device — not the cost of the entire phone.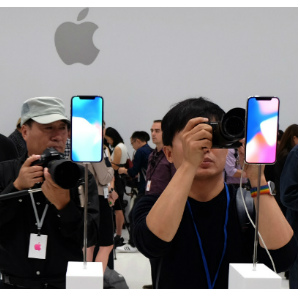 "Qualcomm has unfairly insisted on charging royalties for technologies they have nothing to do with." Apple said in a statement. "The more Apple innovates with unique features…the more money Qualcomm collects for no reason. "
Last January Apple sued Qualcomm in California, demanding $1 billion in damages and cheaper licenses. Apple has also sued Qualcomm and its subsidiaries in 11 other countries including the UK, Japan, China and Taiwan over similar pricing and practices. Qualcomm tried to block those lawsuits, but last month a US judge gave the green light to let them go forward.
On top of its lawsuits, Apple this year also stopped paying its five Chinese chip makers their required Qualcomm licensing fees, forcing the chip makers to stop paying Qualcomm. And to make matters worse for Qualcomm, another phone maker (some say it's Huawei) also recently stopped paying licensing fees.
Round 2: Qualcomm sues Apple
In retaliation, Qualcomm sued Apple this July, claiming it has infringed on six new Qualcomm patents related to battery life, graphics processing, power management, and what Apple calls Force Touch. The suit seeks to ban the sale of some iPhones in the US. And in mid October, the chipmaker also filed with courts in China (video link) to ban both the manufacturing and sale of the iPhone there.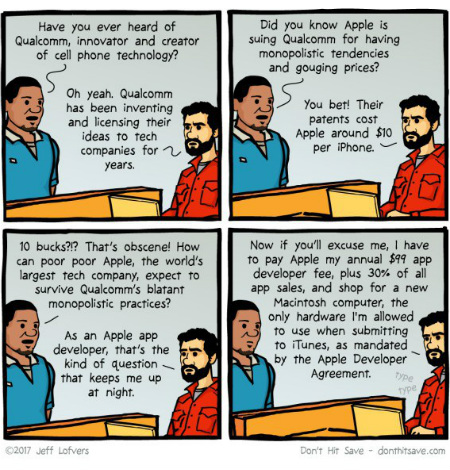 "Apple's goal is clear," said Qualcomm — "to leverage its immense power to force Qualcomm into accepting less than fair value for the patented technologies that have led innovation in cellular technology and helped Apple generate more than $760 billion in iPhone sales."
Technology pundits are betting that the Chinese and US courts won't grant Qualcomm's request for iPhone bans, because Chinese companies like Foxconn employ thousands of people to build iPhones and other Apple products. Still, China may grant Qualcomm may get some concessions, given that it also does business there; and there are no similar legal cases for China's courts to look to. A more likely compromise is for Apple to agree to pay Qualcomm for now, while appealing the cases or suing again later.
Qualcomm is also accusing Apple of using Samsung's influence with South Korea's government to push regulators there to pressure Qualcomm to reduce its processor prices and fees. In December 2016, South Korea's Fair Trade Commission fined Qualcomm $865 million after finding its business practices to be in violation of the country's competition law.
In addition to racking up fines in South Korea, Qualcomm has also been fined in China. In February 2016, the Chinese antitrust regulator required it to pay $975 million and lower its royalty rates on patents in the Chinese mobile phone market. And most recently this month, Taiwan's Federal Trade Commission announced that it will fine Qualcomm $773 million for insisting on contractual clauses that allegedly drove up prices and maintained Qualcomm's dominance in the Chinese cell phone market.
How the Apple vs Qualcomm feud affects mobile devices
Most of Apple's lawsuits against Qualcomm in the US and other countries are set for trial early next year. If Apple wins, it would mean that other phone makers will benefit from lower Qualcomm fees and this in turn could mean even cheaper phones for consumers. If Apple loses, it might owe Qualcomm billions in unpaid fees and/or damages — and make up for that debt by raising prices on iPhones and iPads.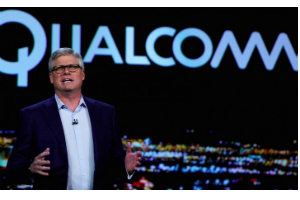 This month at the Wall Street Journal D.Live tech conference in Laguna Beach, Qualcomm CEO Steve Mollenkopf expressed confidence that their relationship with Apple will be saved, though he didn't say how or how soon. "Qualcomm has a long history of providing value and settling these issues," he said during an onstage interview. "This is a discussion about pricing…so really it comes down to how much are you going to pay."
Whatever the outcome, Mollenkopf is set to resign at the end of the year, so the next CEO will inherit quite a docket of legal battles. He or she will have to tread carefully to avoid more damage to the company's business relationships, reputation, investor confidence, and finances. Besides its other recent fines, Qualcomm may also need to spend big if its $39 billion offer to buy NXP Semiconductors is soon approved.
Could Apple dump Qualcomm modems?
But Apple may not be putting all of its eggs into this basket — er, case. The company has recently been hiring wireless radio engineers, so rumors are flying that Apple is developing its own wireless modem as part of what seems to be its new strategy to control its hardware supply chain.
To that end, Apple long ago ended its early dependence on Qualcomm phone processors in favor of Apple's in-house chips. And earlier this year Apple also said it would cease using graphics chips from its UK-based GPU supplier Imagination Technologies (the new iPhone 8, 8 Plus and X are the first with Apple's own GPU). That caused Imagination's stock to plunge and forced the company to sell itself to Chinese-backed equity firm Canyon Bridge.
For more on Qualcomm's history of patent protection, the Apple vs Qualcomm saga and its consequences for the mobile phone industry, check out Bloomberg's excellent in-depth story about it. * end Apple vs Qualcomm technology story