Does your health insurance app talk to you? If not, you're probably not using an app from Alegeus. The US-based company is behind some of the top white label apps used by healthcare plans to engage customers in saving and paying for their healthcare expenses. Recently Alegeus added a voice assistant to its mobile app — and even humor — in order to make it even more user friendly.
The healthcare market is amid a major shift, where consumers are increasingly responsible for the cost of their own healthcare. Alegeus is at the forefront of this shift, providing the industry's largest consumer healthcare funding platform that helps more than 30 million consumers save and pay for the cost of their healthcare.
The Alegeus mobile app is part of a white-label platform used by health plans and third party administrators to deliver consumer directed healthcare (CDH) accounts that include Flexible Spending Accounts (FSAs), Health Savings Accounts (HSAs) and Health Reimbursement Arrangements (HRAs), as well as other account-based benefits for both, their employer group customers and individual account holders.
Alegeus health insurance app new features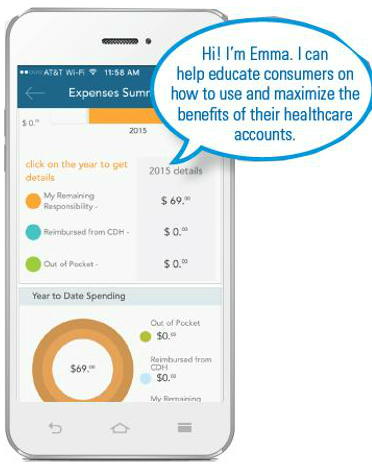 In August 2017, Alegeus introduced the industry's first voice response capabilities, Emma, within its mobile application — enhancing the app's real-time support that engages consumers at the right time, through the right channel, with the right information that ultimately leads to better behaviors and outcomes.
Emma can be asked various questions about the full range of tax-advantaged benefit accounts, including FSAs, HSAs, HRAs, limited purpose FSAs, dependent care FSAs, and commuter accounts. Consumers can ask Emma:
How does my account work?

What is my account balance?

Where can I use account funds?

Do I need a receipt for my purchase?

What were my last five account transactions?
What are my annual contribution limits?
What expenses are covered with my account?
What's the difference between account options?

What are the advantages of opening an account?

Can I change my election amount of my account?

What if I don't use all my money within the plan year?

What happens to my account if my employment ends?

Can I have both an HSA and FSA or an HRA and HSA?
Emma also possesses a sense of humor, from knock-knock jokes about HIPAA and tongue-in-cheek commentary to sharing personal details.
Just like any personal financial account, consumers want easy access to their healthcare spending accounts online and via mobile devices to view transaction history, check balances, make payments, and perform a variety of other self-service functions. The Alegeus mobile health insurance app does that — and more.
Mobile account access for benefit accounts isn't unique — it is industry-standard. What sets the Alegeus mobile application apart is its advanced features that make it easy for consumers to efficiently manage their healthcare spending, such as Emma, the ability to create a new claim on the health insurance app, receive real-time alerts and notifications, upload receipts, and submit claims for approval.
"Best of 2017" Mobile Star Awards Winner:
Financial Management or Money Saving App —  Alegeus
[Enterprise] Health Insurance & Wellness Plan Management —  Alegeus
 2014-15 & 2016 Mobile Star Awards Winner:
[Enterprise] Health Insurance & Wellness Plan Management —  Alegeus
Profile:

Alegeus Technologies
1601 Trapelo Rd., So. Building, 2nd Floor
Waltham, MA 02451
Tel: (+1) 800-369-9794
Alegeus.com
Facebook:  /Alegeus
Twitter:  @Alegeus
Contacts:
Ashley Swanson, Director of Marketing — Ashley.Swanson [at] alegeus.com
Structure:  Private Company
Year Established:  1995
No. of Employees:  under 500
OS Supported:  Android, Apple iOS
Recent Alegeus News
Alegeus Delivers Innovative Engagement Capabilities to Empower Healthcare Consumers
Alegeus and Jellyvision Partner to Further Simplify Healthcare Spending
Alegeus Intros Industry's First Voice-Activated Intelligent Assistant for Consumer Healthcare
Anthem Selects Alegeus to Partner on Consumer Directed Healthcare Solutions