2013 Mobile Star Awards Winner:
(Consumer) Design or Photography Mobile App - Adobe Ideas & Adobe Kuler

2012 Mobile Star Awards Winner:
Enterprise Application Development - Adobe PhoneGap
Company Summary:
Adobe Systems Incorporated
345 Park Avenue
San Jose, CA 95110-2704
(+1) 408-536-6000
www.adobe.com
Company Contacts:
> Denise Styerwalt, Senior PR Manager at Adobe, dstyerwa [at] adobe.com
> Jane Brady, Group Product Marketing Manager,
> Creative Cloud for Design, jbrady [at] adobe.com
> Elissa Dunn, Product Marketing Manager, Creative Cloud for Design,
> edunn [at] adobe.com
Company Structure:  Public Company (ADBE), established in 1982
Approx. Number of Employees:  9,117
Operating Systems Supported:  Apple iOS
Featured Adobe Mobile Apps:
Adobe Kuler is an iPhone app that lets designers quickly capture inspiring color combinations wherever they are.  Extract colors from an image on your phone, or use the live view to capture directly from the surrounding environment.
Once a theme has been captured, the Kuler app makes it easy to share via Twitter.  But the best part is that the color theme is automatically synced to Kuler.adobe.com, and right into the Kuler panel in Adobe Illustrator CC.  So designers can make use of the color themes as soon as they're back at their desk.
Adobe Kuler can be downloaded for free via iTunes.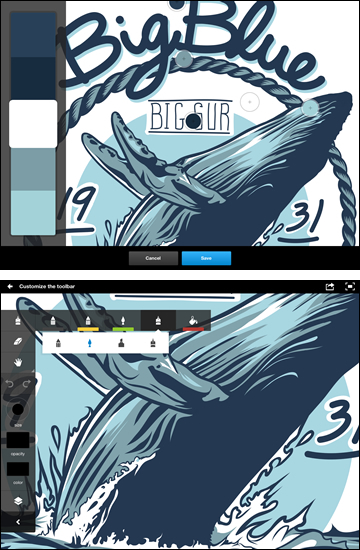 Adobe Ideas gives users the ability to draw freeform vector illustrations wherever they are.  Designers can replace their pen and paper with a huge virtual canvas, customizable brushes, and pressure sensitive stylus support.  With an Adobe Creative Cloud membership, users can easily sync Adobe Ideas projects to Creative Cloud and open them for refinement in Adobe Illustrator. With Ideas, it's easy to take the initial concept to finished design. Users can also share designs to other applications such as Behance and Adobe Photoshop Touch.
Adobe Ideas can be downloaded for free via iTunes.
Adobe Mobile Apps News on MobileVillage:
Toshiba Satellite P55t takes on MacBook Pro, Photoshop Lightroom included
Adobe Reader for Android & iOS gets cloud storage, other goodies