ABBYY data capture, translation and OCR apps —


2016 Mobile Star Awards Winner:

Contact Manager App — Business Card Reader Pro
Educational or Knowledge Reference App — Lingvo Dictionaries
Scanner or Text Input App — FineScanner
Translator Mobile App — TextGrabber
2014-15 Mobile Star Awards Sponsor & Winner:
Educational Mobile App — Larousse Spanish Conjugation Dictionary
Mobile Scanner or Text Input App — FineScanner
Mobile Translator App — TextGrabber
Enterprise Mobile Data Capture — FlexiCapture
Enterprise Mobile Field Sales & CRM — Business Card Reader Pro
Profile:

ABBYY USA
880 North McCarthy Blvd., Suite 220
Milpitas, CA  95035
(+1) 408-457-9777
sales [at] abbyyusa.com
abbyy.com
Facebook:  /abbyyusa
LinkedIn:  /abbyy-usa
Twitter:  @abbyy_usa
YouTube:  abbyyvideos
Contacts:
Gwen Miller, Marketing Communications Manager — gwen.miller [at] abbyyusa.com

Structure:  Private company, established in 1989
OS Supported:  Android, Apple iOS
ABBYY's Featured Productivity Apps:
Data capture & OCR apps
ABBYY® Business Card Reader automatically transfers contact information from business cards in 21 languages into your smartphone.  Take a picture of the card you need and save the recognized data either to smartphone Contacts, or the app's own digital CardHolder. Cards database can be synchronized across all your iOS and Android devices to make it trouble-free, updated and accessible everywhere.
ABBYY FineScanner turns your mobile device into a powerful all-purpose mobile scanner & document manager that allows you to quickly capture images, creating electronic documents in PDF and JPG, and apply OCR to recognize texts for further editing and sharing.  Ideal for individuals, small business, government or school use – anytime, anywhere.
Combining ABBYY's on-device OCR (Optical Character Recognition) technology for mobile platforms with the VoiceOver functionality from Apple®, the application also provides special capabilities for visually impaired and blind users to easily comprehend information from various printed sources.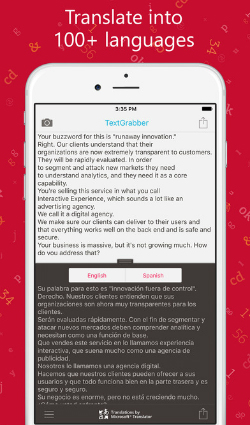 ABBYY TextGrabber + Translator (see image at right or below) is an application which easily extracts text from a variety of printed sources, such as books, magazines, ads, timetables, etc. by using the device's camera.  With its quick text capture and translation features, you can digitize printed information and translate it into your native language anywhere, anytime.
Language learning & translation apps
ABBYY Lingvo PhraseBooks for iOS is an application for mobile devices that will help you communicate with English, Spanish, Italian, German, Russian, and French speakers, learn widely used phrases, and feel confident while abroad!
ABBYY Lingvo Dictionaries is a dictionary application for iPhone, iPad, and iPod touch that offers a fast and easy way to access dictionary content for a variety of languages.  You can create your own custom dictionary sets selecting from a wide range of general translation dictionaries, explanatory, idiomatic, and various subject dictionaries. ABBYY Lingvo do not require Internet connection.  The dictionary will be an indispensable tool when traveling, at work or school.  It provides a reliable translation and exhaustive interpretation at any time, simply by using a mobile device.
Spanish Verb Conjugation Dictionary Larousse is a useful application that includes more than 75 000 complete definitions for 30,000 terms in Spanish.  Simply type in a word or take a picture to get comprehensive definitions and information! Comprehensive entries include grammatical characteristics, part-of-speech labels, forms and areas of usage, synonyms and antonyms. This makes it a perfect tool for getting word definitions in any place at any time.
Recent ABBYY News:
ABBYY TextGrabber implements Real-Time Recognition to instantly connect text to action
ABBYY Business Card Reader launches cloud-based web client
ABBYY updates FlexiCapture to accelerate digital transformation of business operations
ABBYY Real-Time Text Recognition promises to accelerate the digital journey
TrustID moves to the cloud for identity validation using ABBYY OCR