Looking for intuitive, powerful mobile device management software to manage Android, iOS, Windows, Linux, Chrome OS and even Android Wear smartwatches? Here we look at 42Gears' SureMDM, which can manage all of those devices. SureMDM is one of the few MDM solutions to now offer Android wearable management and even a virtual assistance chatbot.
India and Silicon Valley based 42Gears caters to both BYOD and company-owned device deployment scenarios, and offers both SaaS and on-premise products. An easy user interface and extensive functionalities make it a popular choice for managing large device fleets used in all types of industries, such as healthcare, manufacturing, logistics, education and retail.
Besides mobile device management, SureMDM includes all other aspects of comprehensive Enterprise Mobility Management (EMM) such as mobile application management, mobile content management, kiosk management and even mobile identity management.
Mobile Device Management & EMM features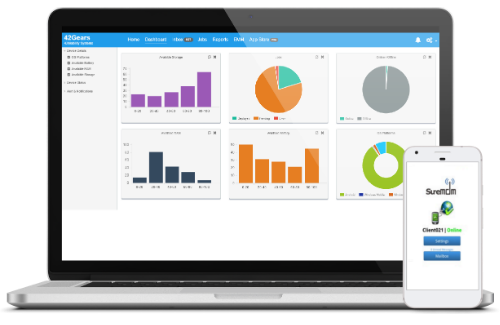 Here are just some of SureMDM's main mobile device management features:
Quick Enrollment — SureMDM simplifies large-scale enrollment of devices through QR code scanning and ensures total security using Active Directory authentication.
Device Provisioning — Enterprises can set up devices with required apps and settings using default jobs and policies. Devices can also be provisioned with Wi-Fi, email and VPN settings.
Device Grouping — Categorize devices into groups based on location, business function or any other criteria for management as per hierarchy or businesses workflow; and tag devices for easy classification and filtering.
Device Health Monitoring — Monitor device battery, app usage, data usage and Wi-Fi connectivity remotely. Set up battery and connectivity alerts for admins.
Location Tracking — Track devices in real-time on map and also view historical location data. Easily geo-tag landmarks and push policies to devices based on geo-fencing.
Security — Remotely apply password policies, and lock and wipe devices in case of device loss or theft.
Virtual assistant for MDM admins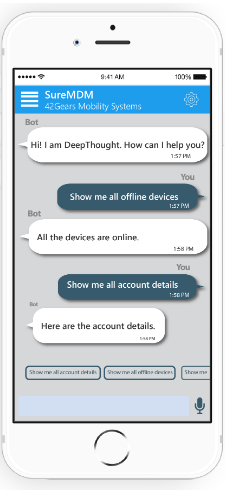 SureMDM now offers what just might be the first-ever virtual assistant chatbot for EMM, called DeepThought. The EMM and MDM virtual assistant processes instructions in natural language, making it easy for admins to navigate through complex networks of MDM functionalities or data to get exactly what's needed, quickly.
DeepThought (pictured here) also offers hands-free mobile device management through chat or voice input. It can be integrated with popular messaging apps such as Skype for Business and Slack.
Kiosk Management details
42Gears' SureLock and SureFox are kiosk management solutions that turn mobile devices into dedicated purpose devices. SureLock is a kiosk lockdown application that converts off-the-shelf devices like tablets, smartphones, smartwatches or even desktop computers into purpose specific devices.
SureFox creates a secure browsing environment, allowing devices to be used as self-service web kiosks or data collection terminals. SureLock provides full control over applications on tablets, while SureFox prevents unchecked browsing to prevent malware invasion.
SureLock features include: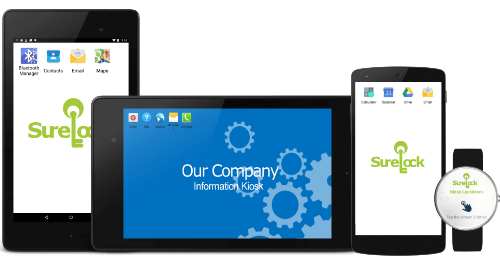 Application Management —
Allow only selected applications to run on the device. You can choose from single or multiple applications to convert Android, iOS or Windows devices into dedicated kiosks.
Security — Block access to non-whitelisted applications, device settings, hardware keys, lockdown settings and Safe Mode. You can also disable Wi-Fi, Airplane Mode and USB port features.
Cloud Support — Export and import lockdown settings to secure Cloud for easy mass configuration and deployment.
Customizable — Customize the look and feel of a lockdown device by adding selected wallpapers and screensaver. Also, specify screen behaviour on specified status.
SureFox features include:
Website Management — Allow browsing of only selected, single or multiple websites or webpages to convert devices into dedicated web kiosks.
Security — Block access to non-whitelisted websites, device home, device settings, lockdown settings and hardware keys. You can also disable a title bar or bottom bar.
Cloud Support — Export and import lockdown settings to secure Cloud for easy mass configuration and deployment.
Customizable — Customize the look and feel of a web kiosk with selected wallpapers and screensavers. You can also specify screen behaviour on specified status.
You can find out more about SureLock here and SureFox here, and quickly get in touch with 42Gears or see the company's latest news below. If you'd like to vote for 42Gears in the 2017 Mobile Star Awards, you can vote here (once only) until December 11, 2017. For your vote to be counted, be sure to follow MobileVillage on Facebook or Twitter.
Mobile Star Awards 'Best of 2017' Nominee:
Apps, Devices or Endpoint Management — SureMDM
Mobile Kiosk Management — SureLock + SureFox

Company Profile:
42Gears Mobility Systems
1st Floor, Nishvi Towers (Plot No. 2279/2729)
16th Cross, 27th Main, Sector 1, H.S.R. Layout
Bengaluru, 560102 India
(+91) 88888 48892 or (+91) 94830 54155
and
48521 Warm Springs Blvd., Suite 303
Fremont, CA 94539 (US)
Contact: 42gears.com/contact
42gears.com

LinkedIn:  /company/42gears
Facebook:  /42gears
Twitter:  @42gears
YouTube:  /user/42Gears
Contacts:
Kaushik Sindhu, Associate Vice President — kaushik.sindhu [at] 42gears.com
Ralf Schmidt, Head of EMM Sales — ralf.schmidt [at] 42gears.com
Structure:  Private company, est. in 2008
No. of Employees:  Approx. 110
OS Supported:  All Browsers, Android, Android Wear, Chrome, iOS, Linux, Mac, Windows
Recent 42Gears News: