Coverage by 9to5Mac
. 
Apple's annual Worldwide Developer Conference was packed full of new information relating to nearly everything Apple offers. Below is a 2017 WWDC roundup with easy access to information on it all.
Apple software updates
Apple unveiled updates to all of its software platforms, including watchOS, iOS, macOS, and tvOS. watchOS 4 brings new features such as a redesigned Workout app, new watch faces, a new dock interface, and much more. macOS 10.13 High Sierra includes its own fair share of changes, including virtual reality support, improved graphics, Safari improvements, and an overall focus on refinement and technology improvements.
As for iOS 11, we get an updated interface and animation tweaks throughout the operating system, a redesigned Control Center, new social features in Music, a completely redesigned App Store, and much more.
The smallest update by far is tvOS 11, which we still don't know too much about.
Read more about today's software updates from this WWDC roundup:
— Apple announces watchOS 4 Apple Watch update
— Apple unveils macOS 'High Sierra' w/ Safari improvements, APFS, more
— High Sierra to be first version of macOS with support for virtual reality
— Apple unveils iOS 11 for iPhone and iPad
— iOS 11 brings Next/Previous Track controls to individual AirPods
— Apple announces AirPlay 2 w/ multi-room support, new social features in Music, more
— Apple announces ARKit for iOS 11
— Apple releases first developer betas of iOS 11, watchOS 4, macOS 10.13, and tvOS 11
— Apple releases Swift Playgrounds 1.5, Xcode 9 & Swift Playgrounds 2 beta to developers
New 2017 iPads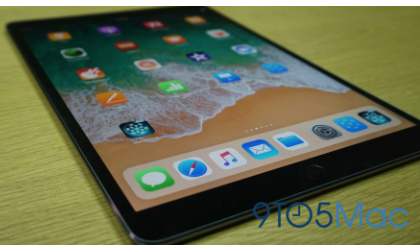 As expected, Apple also unveiled a pair of new iPads: an all-new 10.5-inch model, as well as a refreshed 12.9-inch model. The new 10.5-inch model features 40 percent smaller side bezels to help keep the overall footprint down as well as the same camera technology as the iPhone 7.
Both the 10.5-inch iPad Pro and the new 12.9-inch iPad Pro are powered by the A10X Fusion chip and feature a 50 percent brighter True Tone display and "ProMotion" technology. Additionally, there's dynamic rerfresh rate adjustments, which means the screen moves from 24hz to 48hz to 120hz depending on your use patterns. This, according to Apple, will maximize battery life and performance.
Read more on the new iPad Pros below:
— Hands-on with the new 10.5-inch iPad Pro and iOS 11's ARKit [Video]
— Apple announces new 10.5-inch iPad Pro with narrower side bezels, 120hz refresh rate
— New 12.9-inch iPad Pro gets more than new processor and storage bumps
— Apple Pencil: Improved 20ms latency, mark up support in iOS 11, new case w/ storage slot
Mac updates
Apple today also unveiled a host of new Macs, mostly in the form of iterative performance upgrades. The MacBook Pro has seen an upgrade to Intel's latest Kaby Lake architecture, while there's also a new more affordable model with 128GB of storage. The MacBook Air also received a small speed bump. The new MacBooks are available now.
Additionally, Apple unveiled more powerful iMac models with USB-C and Kaby Lake inside. The new iMacs also feature an improved display with 500 nits that's 43 percent brighter.
Lastly, Apple also teased the upcoming Space Gray iMac Pro, which will start at $4999 and be available in December. The base model will feature four Thunderbolt 3 ports with support for up to two 5K displays, a 1080p FaceTime camera, realtime 3D rendering, and much more. Other specs start at a 5K built-in display, 8-core Xeon processors, Radeon Vega graphics, 32GB ECC memory, and 10 gigabit Ethernet.
Read more about today's Mac hardware news below:
— WWDC '17: First look at Apple's new iMac Pro [Video]
— MacBook Pro updated with Kaby Lake, faster specs, new price; MacBook Air speed bump
— Apple updates all iMacs with improved displays, Kaby Lake processors, more
— Apple teases upcoming Space Gray iMac Pro, 'the most powerful Mac ever'
— Apple says iMac Pro RAM won't be user replaceable, Space Gray accessories not sold separately
New HomePod Siri speaker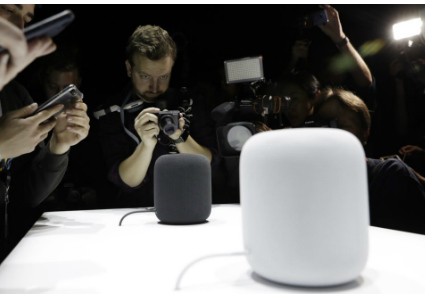 Apple also finally took the wraps off of its HomePod standalone speaker, which it hopes will "reinvent home music." The Siri speaker offers hi-fi audio with a 7 tweeter array paired with precision acoustic horns and directional control. Additionally, there's an Apple-designed 4-inch woofer, while the speaker itself is powered by Apple's A8 chip.
In terms of design, the HomePod features a mesh body and comes in at just under 7-inches in hight.
Powering user interaction with HomePod is Siri. Apple Music is deeply integrated with Siri and the HomePod, meaning users can find out a wealth of information using just their voice: Music, News, Unit Conversion, Messages, Reminders, Podcasts, Audio & Timers, Translation, Stocks, General Knowledge, Weather, Traffic, Sports, and Nearby Activities.
HomePod will start shipping in the U.S., U.K, and Australia this December for $349. It will come in white and space gray.
WWDC roundup video
You can also watch 9to5Mac's Apple WWDC roundup in under 20 minutes:

### End 2017 Apple WWDC roundup