Worldwide smartphone sales to consumers saw a record fourth quarter in 2014 with 367.5 million sold — an increase of 29.9 percent from the fourth quarter of 2013, according to a new report from Gartner. And for the first time since 2012, Apple retook the crown of global smartphone king.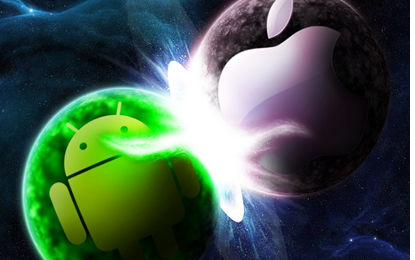 Smartphone sales for all of last year also jumped 28.4 percent over 2013 to reach a total of 1.2 billion devices sold, says Gartner. And as more consumers choose smartphones over other types of mobile phones, smartphones now represent two-thirds of global mobile phone sales.
Apple trumps Samsung
Apple narrowly beat Samsung in the fourth quarter (Q4) by capturing 20.4 percent of worldwide smartphone sales, compared to Samsung's 19.9 percent, says Gartner (see Table 1 below). Compare that with Samsung's 29.5 percent share for Q4 of 2013 — a loss of nearly 10 percentage points.
For last year as a whole, Samsung lost more than six percent market share — finishing with 24.7 percent compared to 30.9 percent in 2013 (see Table 2 below). But Gartner research director Roberta Cozza thinks that Samsung can make a comeback by focusing on offering better software and content services.
"With Apple dominating the premium phone market and the Chinese vendors increasingly offering quality hardware at lower prices, it is through a solid ecosystem of apps, content and services unique to Samsung devices that Samsung can secure more loyalty and longer-term differentiation at the high end of the market," Cozza says.
Apple reported its best smartphone quarter ever in Q4 of 2014, which saw it sell 74.8 million smartphones and move to the No. 1 position worldwide. Apple's first ever large-screen phones continued to see huge demand with sales in China and U.S., growing at 56 percent and 88 percent, respectively, according to Gartner. Apple's strong ecosystem and its new iPhone 6 and iPhone 6 Plus won over many iOS fans and also offered an iOS alternative for new users looking for larger screen phones.
Chinese phone makers coming up strong
With Apple actually losing a tenth of a percentage point in overall smartphone sales last year, which companies have seen big growth? Four companies based in China — Lenovo, Huawei, Xiaomi, and even startup OnePlus — all galloped like racehorses through 2014, the Chinese Year of the Horse. The feistiest of those four may be Xiaomi — although it's not even five years old, the company more than doubled its smartphone sales last year, and grabbed the worldwide No. 5 spot for several quarters.
Thanks to its acquisition of Motorola's phone business last year, Lenovo moved up to the No. 3 spot in the global smartphone market with 6.6 percent market share — a growth of 47.6 percent year over year. Lenovo's sales of mobile phones in its home market of China grew 7.8 percent in Q4, while strong sales in Russia, India, Indonesia and Brazil helped it grow by 26 percent in the global mobile phone market, according to Gartner.
"Chinese vendors are no longer followers," says Gartner's Cozza. "They are producing higher quality devices with appealing new hardware features that can rival the more established players. Brand building and marketing will be key activities in deciding which Chinese vendors can secure a foothold in mature markets."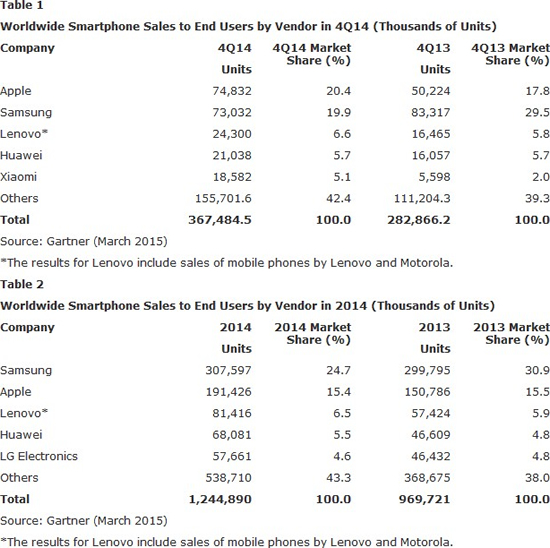 Android smartphone sales win worldwide
Although Apple increased its smartphone sales in Q4, Android was again the big winner for the entire year. The availability of many new Android (and some Windows Mobile) smartphones at lower prices convinced many feature phone users to buy smartphones — pushing the smartphone operating system market to double-digit growth in most emerging countries — including India, Russia and Mexico, says Gartner.
This trend continued to benefit Android, which saw its market share grow 2.2 percentage points in 2014, and 32 percent year on year (see Table 3 below). Chinese and other smaller players drove Android's performance in 2014, while more established players at the higher end of the market continued to struggle to increase stickiness to their brands and ecosystems. Windows Phone's performance was flat but it recorded strong results in some markets in Europe, and in the business segment.
Worldwide mobile phone sales to end users totaled nearly 1.9 billion units in 2014, a 3.9 percent increase from the same period in 2013 (see Table 4 below). All regions recorded growth in 2014, except Japan and Western Europe, which recorded declines of 2.8 percent and 9.1 percent, respectively.