2016 Mobile Star Awards Winner:
..>  Mobile Sports Enthusiast App — 18Birdies golf app
Company Profile:
18Birdies
505 14th St. Suite 330
Oakland, CA 94612
(+1) 510-396-7527
18birdies.com

Structure:  Private Company, established in 2014
Approx. Employee Count:  70
OS Supported:  All Web Browsers, Android, Apple iOS
Contacts:
>  Anish Patel, PR Manager, anish.patel [at] 18Birdies.com
>  Jeremy Crittenden, Director of Communications, jeremy [at] 18Birdies.com
How 18Birdies can up your golf game: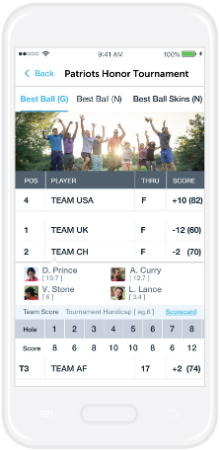 18Birdies is a state-of-the-art integrated social mobile golf platform built to enhance the golf experience. 18Birdies aims to inspire golfers of all ages and skill levels by managing their games, challenging and motivating them through competition, and sharing their experiences with other golfers.
18Birdies provides a simple and intuitive experience that harnesses the power of technology, gaming and social to make golf more innovative, fun and engaging. The 18Birdies mobile golf platform enhances the experience between golfers and the courses they play, growing the golf community.
18Birdies golf app features
The 18Birdies mobile app, available for both iOS and Android, combines the power of social and gaming with all the tools needed to make every golf outing an exciting experience. Whether you are playing a round of golf with friends, putting on a small or large full-field tournament (Individual Stroke Play, Scramble, Best Ball, Team Best Ball or Skins), or just playing by yourself, the 18Birdies golf app will help make things interesting!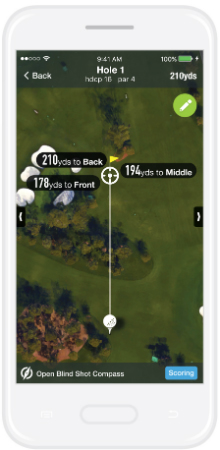 Top features in the 18Birdies golf app are:
Tracking of all of your scores, round history, personal statistics, and side-game bets (Skins, Nassau, Vegas, Rolling Stroke and Match).

A GPS+ rangefinder powered by Google Maps that covers every course in the U.S. and most of the World.

Tournament+ feature allows users to create custom tournaments all from their smartphones. This includes Scramble, Best Ball, Team Best Ball, Individual Stroke Play and Skins tournaments and provides a live leaderboard for all participants for a professional look and feel.

A social feed that lets you connect with friends and courses to share comments, photos and videos.

A Blind Shot Compass that figures out the line when you can't see the green.
The 18Birdies mobile app is the only golf app on the market offering all of these great features in one place! With smartphones being such a big part of our lives, 18Birdies is the perfect tool to reimagine the golf experience and make the game more social, competitive and fun!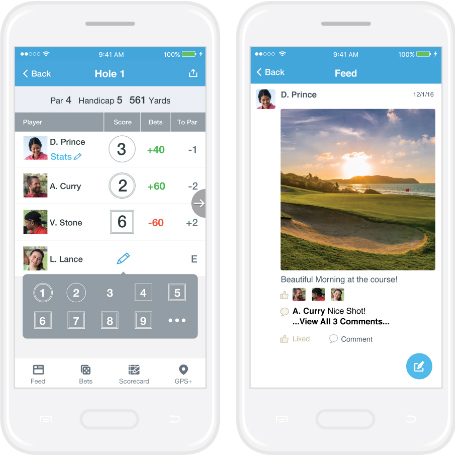 Recent 18Birdies News:

.
What's New: 18Birdies App Update 4.2
18Birdies: A Fresh New Twist to Golf
Tracking Games with Buddies is Feature on New App
18Birdies App Releases Mobile Tournament Management Features
(end 18Birdies mobile golf app profile)